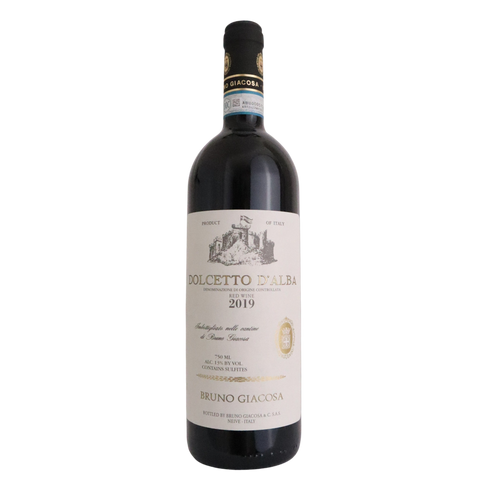 2019 Bruno Giacosa, Dolcetto d'Alba, Piedmont, Italy
Intense and complex, with cherry, strawberry and blackberry notes. On the palate, the wine is full-bodied and well-balanced, with good freshness.
ABOUT THIS WINE
100% Dolcetto from select vineyards in the villages of Neive, Neviglie, Treiso and Alba. Aged for 7 months in stainless steel vats. This wine is made to drink NOW! Dolcetto is known as the "little sweet one" even though this grape is generally tart with loads of black fruit flavors. Dry, medium-full-bodied, low-med tannins, medium-low acidity. Serve this wine with Italian classics; best with richer, darker meats and vegetable dishes with roasted tomatoes, eggplant, and garlic.
ABOUT THIS PRODUCER
One of the legendary winemakers of the world, Bruno Giacosa crafted the most prestigious single-vineyard Barolo and Barbaresco wines during a career that spanned nearly eight decades. He joined the family business at the age of 15, representing the third generation of his Langhe winemaking family. Giacosa's unfailing pursuit of perfection, his unrivaled palate and his intimate knowledge of vineyards in the Langhe quickly drew recognition and helped establish Piedmont as a leading wine region. In 1980, Giacosa began to acquire prime parcels in Serralunga d'Alba, La Morra and Barbaresco to produce wines that are rightly regarded as the finest expressions of Nebbiolo. His legacy rests with daughter Bruna, who continues to uphold her father's winemaking philosophy to respect traditional techniques while using the best of modern technology. The goal is for each distinguished site to produce articulate, unique wines.