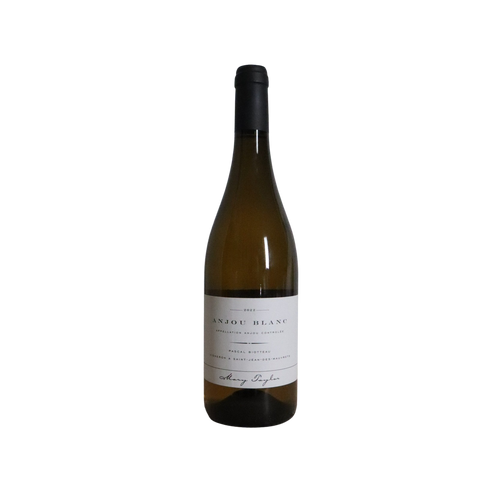 2022 Mary Taylor Anjou Blanc, Loire Valley, France
Bright and tangy with notes of lemon and apricot, Pascal's Anjou Blanc is grown in a combination of schist, slate, and sandstone from vineyards along the western edge of the appellation.

ABOUT THIS WINE

Sourced from vineyards that fall exactly along the border of the two sub-regions of Anjou, this gorgeously subtle white from fourth-generation winemaker Pascal Biotteau comes from the village of Saint-Jean-de-Mauvrets, situated on the old Roman road from Angers to Poitiers.

Combining the fresh acidity of the "Anjou Blanc" limestone with the flinty, mouth-coating richness of the "Anjou Noir," this wine offers a beautiful composite picture of Anjou as a whole, with honeyed notes of apricot giving way to a tangy mineral finish. The vines are an average of 25 years old and the wine is aged in stainless steel.

ABOUT THIS PRODUCER
When Mary first fell in love with wine in the early 1990's, it was the European classics that truly spoke to her and stole her heart. As a young professional selling French and Italian wine, first in the New York wine auctions and then as a merchant, she quickly learned to appreciate wine in the "Old World" way— not as a luxury good reserved for special occasions, but a living agricultural product that belongs to everyday life.
After many years working with the wines of Europe, Mary arrived at an important insight. Left in the dark by decades of simplistic marketing efforts that placed grape above geography, American consumers needed a brand they could trust to decipher the complex notion of terroir in a clear and straightforward way. Out of this realization, the elegant "White Label" was born.
Today, it is her mission to unlock the world of European "appellation" wines by working with individual growers in multiple villages— from Bordeaux to Nîmes to Valençay— who produce exceptional, regionally-distinctive wines at extremely accessible prices.
In the traditional spirit of the "Old World," each Mary Taylor Wine has been selected as a faithful ambassador of its geographical origin, true to local traditions and the vision of the individual farmer who bottled it. They are proud to offer affordable wines of genuine quality and integrity (no shortcuts) that will bring the magic of their "terroirs" to life wherever you choose to enjoy them: at a dinner party, next to the grill, or even just on a quiet night at home.