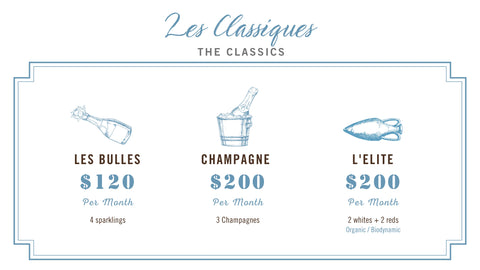 " Les Classiques" - THE CLASSICS You love your wines and are ready for more "Je ne sais quoi" in your wine journey. Choose from either our Sparkling, our Champagne or our Crème de la Crème; L'Elite to take your wine journey to the next level.
Perrine Prieur Gallardo
CEO - Founder - Owner
Certified Sommelier, Court of Master Sommeliers (CMS)
Perrine was born and raised in Burgundy, France, where her family still lives. Her family had a significant influence on her love for food and wine, farmers and winegrower, and she learned early on that quality products make the best dishes or wines. At 15, Perrine attended a culinary school in France. During those four years, she traveled extensively throughout France, working in various kitchens and eventually deciding to pursue her wine passion. "The night a customer gave me a taste of 1945 Chateau D'Yquem, I understood I'll be missing out if I only worked in the kitchen."

She soon after started at a Sommelier school in Dijon and learned a lot about wine.

She worked as a sommelier in the 2 Michelin Star restaurant Le Gavroche in London. There, Perrine could expand her knowledge, taste incredible wines and maintain the rigorous Michelin Star standards. Perrine's original dream was to open a wine bar in France, but she wasn't yet ready to settle in Burgundy after this experience in London.

In 2006, she moved to Atlanta and worked at JOËL Restaurant; in 2010, she opened Perrine's Wine Shop on the Westside.

"I wanted to create a different atmosphere for the wine shop: fresh, light, bright, and welcoming. So often, I felt like I didn't belong to this male-dominated profession. I wanted every customer to feel welcomed and to not feel intimidated by wine. It's a beverage everyone should enjoy and learn more about it if your heart is in it. Wine is Simple; we are making it complicated."