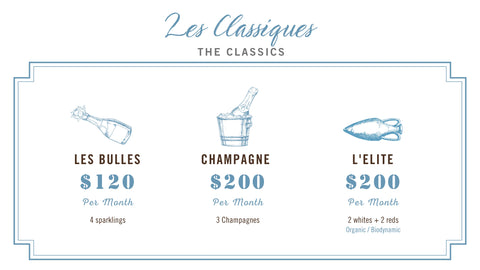 " Les Classiques" - THE CLASSICS You love your wines and are ready for more "Je ne sais quoi" in your wine journey. Choose from either our Sparkling, our Champagne or our Crème de la Crème; L'Elite to take your wine journey to the next level.
Privacy Policy
Updated October 18th, 2022
This privacy policy applies to www.perrineswine.com owned and operated by WBP Holdco, LLC (collectively, "We", "Us", "Our", "Perrine's Wine" or "perrineswine.com"). perrineswine.com has agreed to notify users of:
What personally identifiable information perrineswine.com

collects.
What personally identifiable information third parties collect through the Web site.
What organization collects the information.
How vervewine.com uses the information.
With whom perrineswine.com

may share user information.
What choices are available to users regarding collection, use and distribution of the information.
What measures vervewine.com takes to protect the information under its control.
How users can correct any inaccuracies in the information.
If you feel that our company is not abiding by its posted privacy policy, please contact the Perrine's Wine Shop by email at info@perrineswine.com
INFORMATION COLLECTION AND USE
Perrine's Wine Shop is the sole owner of the information collected on this site. We will not sell, share, or rent this information to others in any way that varies from what is disclosed in this statement. Perrine's Wine Shop collects information from our users at several different areas on our site.
You may receive information regarding new features, services and special offers we think you'll find valuable. We may also share information with carefully selected business partners. These businesses may use the information we share to provide valuable opportunities and offers. If you'd like to opt out of future mailings from Perrine's Wine Shop, follow the procedure outlined at the bottom of each marketing e-mail. When we present you with the opportunity to receive marketing opportunities from our business partners we will not automatically subscribe you for these promotions, rather we will provide you with the opportunity to opt-in to these third party marketing programs.
You may also access the personally identifiable information you have submitted to Perrine's Wine Shop by selecting "Your Account" and editing the information as it exists in our system currently. You are also able to access your information in order to update or delete it by sending us an email at info@perrineswine.com .We will respond to your request within a reasonable time frame.
We will retain your information for as long as your account is active or as needed to provide you services. We will retain and use your information as necessary to comply with our legal obligations, resolve disputes, and enforce our agreements.
REGISTRATION
No registration is required in order to use this website, though a user must create an account prior to completing any purchase. Users are required to provide their name, email address, zip code, phone number, and a password. This information is necessary in order for us to contact users about services on our site for which they have expressed interest.
TELL A FRIEND
If you choose to use our referral service to tell a friend about our site, we will ask you for your friend's name and email address. We will automatically send your friend a one-time email inviting him or her to visit the site. Perrine's Wine Shop does not store this information. Your friend may contact us at info@perrineswine.com to request that we remove this information from our database.