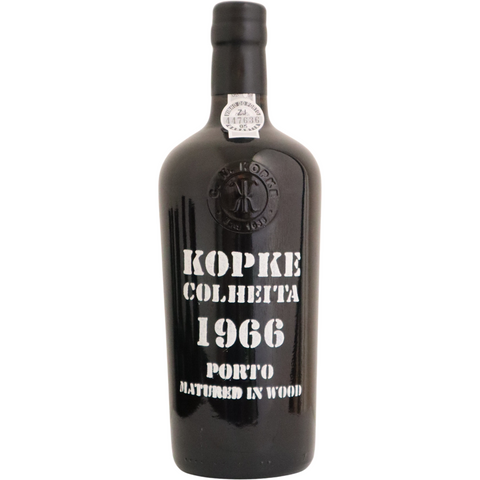 1966 Kopke Colheita, Douro, Portugal
Dark maple in color with fragrant whiffs of honey, caramel, and hazelnut. Medium-bodied, soft and sumptuous with a silky elegance. Bright acidity provides balance.
ABOUT THIS WINE
Hand-harvested at their best moment, the grapes are de-stemmed, crushed and vinified in a careful maceration to extract color, tannins and aromas. This process takes place in vats at a controlled temperature between 28-30ºC, until reaching the desired sweetness. At this phase grape brandy is added making a fortified wine. this wine is of an exceptional quality, from a single harvest. it matures in wood for variable periods of time, never less than 7 years, being bottled afterwards by market demand.
ABOUT THIS PRODUCER
Kopke is part of Portugal's legacy and was created in 1638 by Christiano Kopke and his son, Nicolau Kopke.
Over a handful of generations the Company was managed by several representatives of the Kopke family and gets an excellent reputation for its wines. Some of its members were deeply involved in the Port trade, mainly in the 19th century. In 1953, and after some negotiations, the Barros family, headed by Manuel Barros, then bought the company, which is growing eversince with the development of new vineyards planting the best known varieties. In June 2006, the Group expands and becomes Sogevinus with a strong presence in the Port wine industry. Today Kopke is one of the oldest brand of port wine and assumes leadership in the category "Porto Colheita".