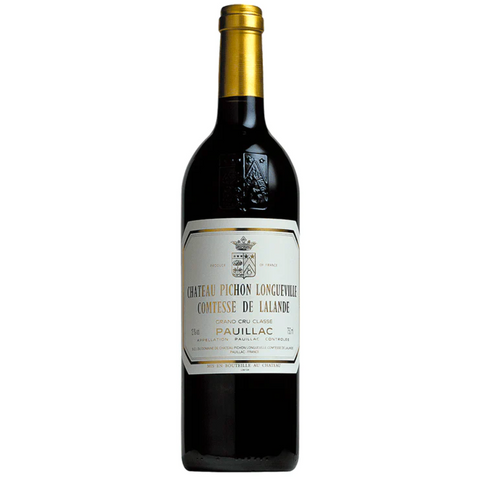 1995 Château Pichon Longueville Comtesse de Lalande Pauillac, Bordeaux, France
This wine has a coffee/chocolatey/cherry component to go along with the Cabernet Sauvignon's and Cabernet Franc's complex blackberry/cassis fruit. The wine possesses an opaque black/ruby/purple color, and sexy, flamboyant aromatics of pain grille, black fruits, and cedar.
There are 3 units left in stock.
ABOUT THIS WINE
The vineyard is divided into 100 separate parcels in which planting is dictated by terrain and soil structure. Four varietals are planted which are used to source the wines of Pichon Lalande, their second wine, Pichon Comtesse Reserve (previously named Reserve de la Comtesse), and a miniscule bottling of a third wine, Les Gartieux de Pichon Lalande. Cabernet Sauvignon is planted on gravel rises at the top of slopes, while Merlot is planted in sandy gravel soils on cool, damp clay subsoils. Cabernet Franc thrives on the soils with higher clay content with excellent sun exposure. Petit Verdot is the most weather-sensitive varietal grown on the Medoc but thrives on sandy-gravel soils. This varietal is planted closest to the estuary or where it is protected by other plots. The blend becomes a concentrated, full-bodied, smooth wine that expresses intense minerality, depth and richness – the very essence of its terroir.
ABOUT THIS PRODUCER
Château Pichon Longueville Comtesse de Lalande is located on Bordeaux's Left Bank, in the world-renowned Pauillac appellation. Under the 1855 Classification, which Napoleon III requested for the Exposition Universelle de Paris, Pichon-Lalande falls under the Deuxièmes Grands Crus Classés, or Second Classified Growth category.
Pichon Longueville Comtesse de Lalande and Pichon Longueville Baron were once one large property. At the time of Baron Joseph de Pichon Longueville's death in 1850, his estate was split between his two children: his daughter Virginie who married the Comte de Lalande (Château Pichon Longueville Comtesse de Lalande) and his son Raoul who inherited the title of Baron (Château Pichon Longueville Baron).
Edouard and Louis Miailhe, descendants of an old Bordeaux family of vineyard owners and wine brokers, purchased Château Pichon Longueville Comtesse de Lalande in 1925. May Eliane de Lencquesaing, Edouard's daughter, inherited it in 1978 and ran it until 2007. It was under her ownership that Pichon Comtesse's reputation as a prized Pauillac wine flourished and earned its "super second" reputation (referring to its Second Growth classification). The consistent quality, year after year, was simply indisputable. The château's seminal 1982 vintage even garnered the perfect score of 100 points by wine critic Robert Parker.
In 2007, eager to ensure the continuing success of the estate in the same philosophy — with a focus on impeccable land stewardship — May Eliane de Lencquesaing sold the property to the Rouzaud family, owners and descendants of Louis Roederer.
With its vineyard totaling 220 acres, Pichon Comtesse is unique for its wide-ranging variety of plots, soil compositions and grapes, not to mention that 27 acres are in the commune of Saint-Julien, endowing the grapes with exceptional personality within the Pauillac appellation. Complexity, elegance and longevity are the hallmarks of its wines from these diverse vineyards. 

Starting in 2009, an ongoing restructuration of the vineyard has favored a better match between grape varieties, rootstocks and soils. The château's meticulous viticulture shuns from herbicides altogether, utilizes pruning techniques designed to increase each vine's lifespan, and chooses Massal selection to preserve ancient plant material for future use. With land stewardship and sustainability as its guiding principles, Pichon Comtesse is carefully applying biodynamic viticulture to its vineyard, totaling 37 acres in 2019. 
Château Pichon Comtesse offers magnificent views of the vineyards of Pauillac, Saint-Julien, and the surrounding Gironde Estuary. As the château is ideally situated between the Gironde Estuary and the Atlantic Ocean, the two bodies of water favor air movements and temper the vineyard's microclimate, creating optimal conditions necessary for ripening the grapes.
Pichon Comtesse neighbors Château Latour and shares its soil composition of gravel and clay. The benefits of this soil come from the vines' need for hardship in order to produce good wine – their roots must plunge several meters down to reach the water. Vines at Pichon-Lalande are on average 35 years old.