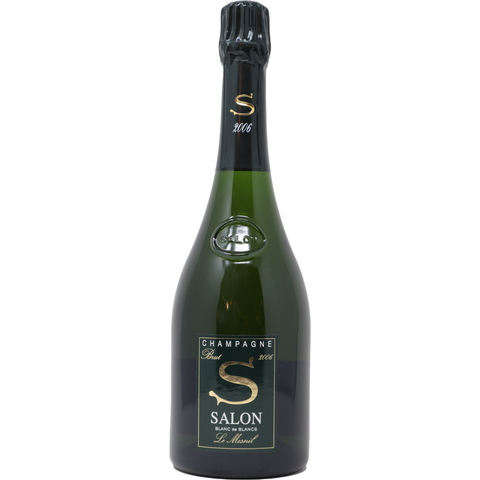 2006 Champagne Salon "Le Mesnil", Champagne, France
Wet chalk and oyster shell notes, and there are aromas of dried yellow flowers and white mushrooms, white chocolate and lemon citrus as well as fresh pastry. The palate has ripe lemon-drenched peach fruits. 
Salon is a unique Champagne. All the emphasis in the production of this exceptional wine is on the singular. It was originally the product of one single man, Aimé Salon; from one single region, the Côte de Blancs; from one single cru, Le Mesnil-sur-Oger; from one single grape variety, Chardonnay; and from one single vintage, with no blending whatsoever. Created in 1911 with its first vintage in 1905, Champagne Salon is the creation of Aimé Salon, a champagne connoisseur enchanted then seduced by the terroir of Le Mesnil. Headed by Salon until his death in 1943, the house was then left to his nephew. In 1988, Champagne Laurent-Perrier, a family-owned company, became the majority shareholder of Champagne Salon. Today, the house of Salon, along with its ancient neighbor and sister, Champagne Delamotte (the 5th oldest Champagne house, founded in 1760) are directed by one man, Didier Depond. At each step of the production of Salon, a conscientious effort is made to be the best, the most beautiful and the rarest, thus allowing fervent admirers of Salon to taste a perfectly balanced Champagne, with rich and complex aromas. The name Le Mesnil resonates in a special way with lovers of great wine. Nestled in the heart of the Côte des Blancs, 100% Chardonnay and 100% Grand Cru, this is the king of Champagne vineyards. It is here that the most profound expression of Chardonnay's delicate freshness truly comes to the fore, where magnanimous nature offers a wine that is purity itself. This Champagne is produced from a 2.5-acre parcel owned by Salon ("Salon's Garden") and from 19 other smaller parcels in Mesnil-sur-Oger, chosen by Aimé Salon at the beginning of the 20th century.
To produce Salon is an act of courage, since by definition it is never subjected to the art of the blender. What comes in from the vineyards and passes through the presses is Salon – nothing can be added. Since the 1970s, the wine has been fermented in steel. There is no malolactic fermentation and no use of reserve wines. The dosage never exceeds 8g to ensure the typicity of Salon is not masked by sugar.
Alain Terrier, chef de caves at Laurent-Perrier, keeps an eye on the young wines and tastes them in January to decide if they are worthy of the Salon label.
This process varies from vintage to vintage, but in general a bottle of Salon is aged for 8–12 years before commercial release. Because Salon is produced under such severe constraints, vintage years are not always predictable.