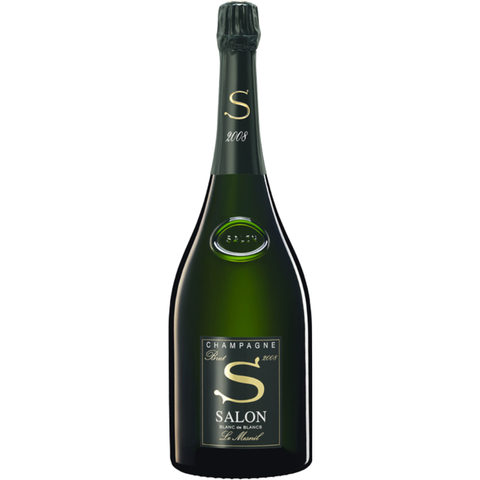 2008 Champagne Salon "Le Mesnil", Champagne, France Magnum
Great texture, precision and ripeness. For a recent disgorgement this is currently generous, so expect it to shine for a year and then close down tight for many years after. Freshness, power, yet a real lightness; it plays on your palate, very fine.
There are 1 units left in stock.
ABOUT THIS WINE
Simply one of the best. 100% Chardonnay. Over 10 years on the lees, disgorged on January 2019, a dosage of 6.2 g/l, and one of the best vintages we have seen in our lifetime. It doesn't get much better than this.
ABOUT THIS PRODUCER

The first vintage of Champagne Salon was 1905. It was the creation of Eugène-Aimé Salon, a unique character with unwavering ambition. In love with champagne and captivated by the terroir of Le Mesnil, Eugène-Aimé Salon created a champagne after his own heart: an unparalleled Blanc de Blancs. Initially he created this for his personal pleasure only – it was not until the 1920s that he was to share his creation with the rest of the world.
Champagne Salon comes from a single hectare plot called « the Salon garden » and nineteen other small plots in Le Mesnil-sur-Oger selected by Eugène-Aimé Salon at the beginning of the 20th century. The wines are aged in our cellars for an average of ten years, after which they finally start to reveal their complexity and finesse.

The fact that Salon still conserves bottles in its cellars from nearly every vintage is testament to its legacy and honours it.
Just 37 vintages were produced in the 20th century, a unique phenomenon in the world of wine.
Today, Champagne Salon is run alongside Champagne Delamotte by Didier Depond, President, and Michel Fauconnet, Cellar Master and Production Manager of the Laurent-Perrier group.