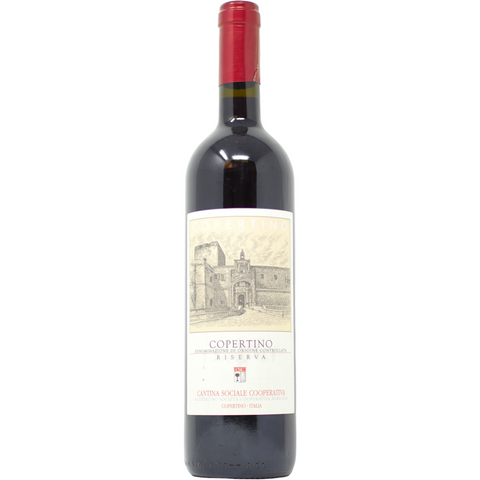 2012 Cantina Sociale Cooperativa Copertino "Riserva", Puglia, Italy
Ruby red wine with garnet. Intense, ample, rich and ethereal, with hints of blackberry, plum, mediterranean, ripe fruit and leather. Warm, rich, generous and lively, with evolved and complex tones, with flavors of almonds and black currants.
From Negroamaro grapes, with minimal addition of Malvasia Nera, Montepulciano.
In the Apulian plain, in the center of the Salento peninsula, between the Ionian and the Adriatic sea, extends the territory of Copertino. On this red soil, vineyards and olive trees harmoniously alternate: century-old twisted trunks of olive trees often introduces the characteristic Apulian shrub-vines that produces this strong and generous wine.
In 1935, thirty-six vine growers founded the Cantina Sociale of Copertino, with the aim of improving the cooperation and the production of their own vineyards and the trade of their wine. Today the cooperative numbers 300 proud members who confer their own harvest. The vine cultivated area extends to around 300 hectares, and all wines are meticulously treated with wisdom, result of tradition and innovation, obtaining excellent wines, able to arouse enthusiasm.