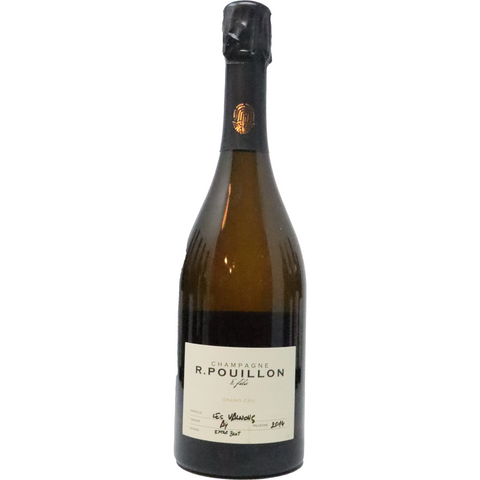 2014 R. Pouillon "Les Valnons" Brut Nature, Aÿ, Champagne, France
Unique aromatics of black tea and bitter orange lead to an ultra-long, delineated palate. The wine has plenty of drive and power without being heavy or dull.
The Pouillon family has been growing grapes in the region for over a century, but it wasn't until 1947 when Fabrice's grandfather, Roger Pouillon, decided to produce wine from his holdings along with the help of his wife, Bernedette, and his uncle, Louis Baulant, a well-known winemaker and consultant in the region. The estate continued to grow over succeeding decades as grape contracts expired allowing the family terroirs to be reincorporated into the Pouillon estate. James Pouillon, Fabrice's father, joined the firm in 1964 and modernized the cellar by adding enamel-lined tanks and gyropalletes. Fabrice joined his father in 1998 after finishing degrees in both business and oenology school, and he has taken the winery in an exciting new direction. Working in the grand cru of Aÿ and throughout the Vallée de la Marne and the Montagne de Reims, Fabrice is crafting articulate, expressive, terroir-driven wines that are vibrantly aromatic and intricate on the palate.
Fabrice Pouillon is dedicated to the vitality, energy and health of his vineyards. In 2003, he began the work of conversion to organic viticulture and today he incorporates biodynamic principles into his work including compost management, spraying herbal "teas" and applying 500 and 501 treatments. He currently uses only organic compounds for fertilizer, pheromone confusion to ward off pests, cover crops to restore nutrients in the soil and plows alternating rows to keep vine competition and soil aeration consistent despite varied growing conditions. He is also a member of Lutte Raisonnée.
Fruit is harvested by hand and transferred to an ancient wooden pneumatic press. The juice then falls via gravity into enameled iron fermentation tanks. The wines are aged in a combination of stainless steel and older oak demi-muids and barriques where everything undergoes full malolactic fermention. Reserve wines are aged for up to 18 months in 700 liter, old-oak barrels. There is also a stainless-steel "solera" with wines dating back to the late 90's. The results are electric, terroir driven wines with high-toned aromatics, fresh acidity, and incredible length. These are wines that are light on their feet yet possess depth and intensity that continually unfold with each sip.