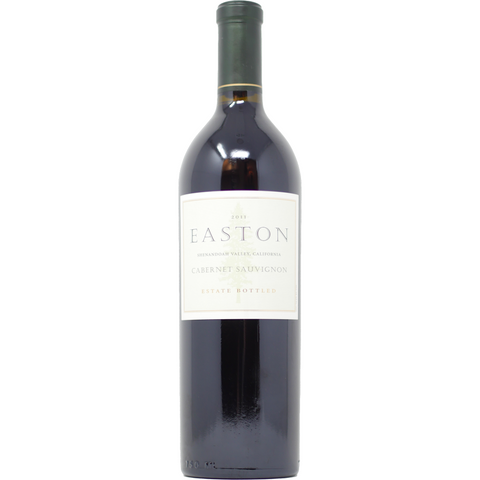 2011 Easton Cabernet Sauvignon Estate Bottle Reserve
Bill Easton is an icon in the Sierra Foothills of California. His approach to bottle conditioning wines before release ensures every bottle YOU buy is at its apex of deliciousness. His Cabernet is dark and brooding yet somehow ethereal and complex.
Our Cabernet Sauvignon is from the Baldinelli Vineyard which was planted in 1972 on St. George rootstock. This is an old, low bearing, small berry/cluster clone. Yields are about 1-1 1/2 tons per acre. Our growing season is longer and cooler than what many might assume. It is comparable in many ways to the Howell Mountain region of the Napa Valley. Red, iron-laden soils of grainy decomposed granite. Warm days moderated by afternoon Delta breezes and cool night air from the High Sierra peaks just 50 miles to our East. Closer to harvest as the days become shorter, fruit cooled overnight takes half the day to warm again and matures slowly. Harvest was particularly late in 2011 and this vineyard was harvested on November 2, 2011. The grapes are fermented in 5 ton open top fermenters and hand-punched. The remainder are fermented in a 10 ton closed top tank where the cap is irrigated with a special device during pump-overs. Lots are combined at a later date depending on the winemaker's discretion. Aging takes place in 100% French Bordeaux barrels from Taransaud cooperage. They are thin-staved Bordeaux-styled Center of France barrels and 50% are brand new each year. The remainder of the barrels are from the two previous years vintages. The wine is in barrel for two years prior to bottling in the Fall of 2013. It was aged in bottle for an additional two years prior to its' release in the Summer/Fall of 2015.