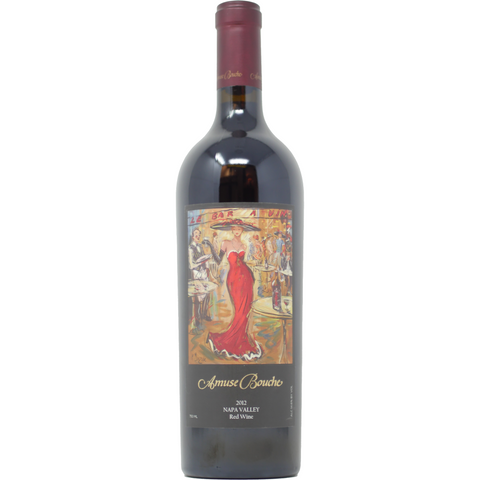 2012 Amuse Bouche
Bright, silky and elegant with tangy plum and fine acid structure; juicy and pure with finesse and huge aging potential. 95% Merlot, 5% Cabernet Franc.
We confess... We went French this vintage. On the art, that is! We couldn't resist. For our Amuse Bouche 2012, we commissioned celebrated Parisian artist, Marc Clauzade, to create the gorgeous painting featured on this label: Le Bar à Vin.
Amuse Bouche 2012 was harvested on October 2 from our lofty vineyards in the east Rutherford Hills of Napa Valley. The blend of 95% Merlot and 5% Cabernet Franc is currently resting in a combination of Taransaud, Radoux and Gamba cooperage, awaiting its March 2014 bottling date. 575 cases were produced.
Born in 1957 and raised in a family of art and fashion (both grandmothers were designers for France's top fashion houses in the 1930s), Clauzade embarked on an education in engineering before acknowledging his passion for art and enrolling at the Beaux-Arts school in Toulouse. Shortly after completing his training, he was awarded the coveted Grand Prix Oil from the FIAP Paris Salon. His art is now exhibited worldwide, including stateside at institutions such as the Galerie d'Art Français in New Orleans and the Galerie Rue Toulouse in Carmel. Clauzade uses flowing brushstrokes and contrasting lines to create flirty, colorful personalities in retro-chic milieus. The French Art Network hails Clauzade as "the first artist to reinterpret Lautrec and Dégas in over 100 years.