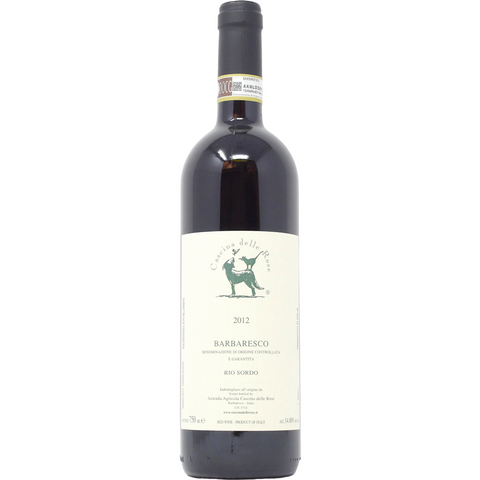 2012 Cascina delle Rose Barbaresco "Rio Sordo"
Dark berry, rose petal, aromatic herb, leather and a whiff of game are just some of the aromas you'll find on this intense, full-bodied wine. The palate is still tight, showing wild cherry, licorice, baking spice and tobacco alongside firm tannins.
Cascina delle Rose is located in the Rio Sordo Valley in Barbaresco. This 3 hectare estate is run by Giovanna Rizzolio and Italo Sobrino and their sons, Riccardo and Davide. As the name suggests, roses are indeed omnipresent on the farm and in the vineyards, practicing organic viticulture. It has been a family run business since 1948, but they only bottled and sold under the Casina delle Rose label after Giovanna took over in 1992.
Their small production focuses on Barbaresco from both the clay soils of the vineyard Rio Sordo and the calcareous soils of the Tre Stelle vineyard. These steep hillside vineyards are all worked by hand; grapes are harvested, de-stemmed, and fermented with natural yeasts. They are then aged for 20-22 months in large botti - mostly Slavonian with a few Swiss casks they purchased in 2016. The oldest of their casks is from 2002 and the youngest from 2017. The wines spend a few months in the bottle before release as well.