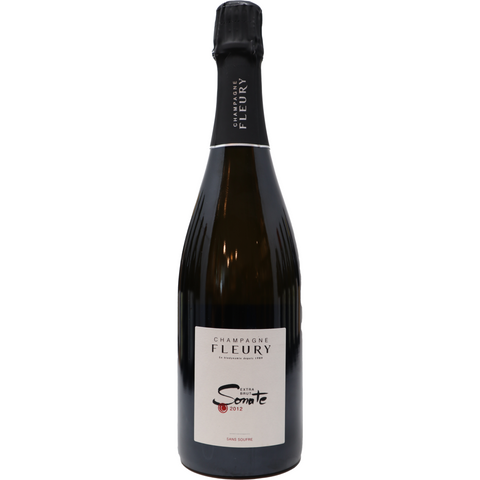 2012 Champagne Fleury Sonate Extra Brut, Champagne, France
Sonate has an aromatic bouquet with an abundance of ripe fruit, dried fruit, baked apple, stone fruit and citrus notes. Its rich and creamy texture is enhanced by wonderful length and a pleasant touch of bitterness on the finish. personality
ABOUT THIS WINE:
The blend is composed of 78% Pinot Noir and 22% Chardonnay. It has a very low dosage (less than 1g/L) and offers an extraordinary long finish. Served at approximatively 10°C, this cuvée is particularly recommended for the aperitif, and develops its full character within the first 15 minutes.
ABOUT THIS PRODUCER:
'We were the first Champagne producers using biodynamics', claims Jean-Sébastien Fleury, current winemaker at Champagne Fleury. Champagne Fleury was founded by his great-grandfather in 1895, and it's located in the Côtes de Bar, in the south of the Champagne region. In 1929, during the depression, grape prices were so low that Robert Fleury decided to take the then unusual step of bottling his own Champagne.
Champagne Fleury's comversion to biodynamics was at the hands of Jean-Sébastien's father, Jean-Pierre. His interest in sustainable wine growing began in the 1970s when he tried using manual tilling (as opposed to herbicides) and composting (as opposed to synthetic fertilizers). He began a trial with biodynamics, applying it to just 3 ha, in 1989 and then in 1992 used it across the whole of his vineyard holdings.
All 15 hectares that Fleury own (90% of which is Pinot Noir) are cultivated using biodynamics, which makes them the largest biodynamic producer in the entire Champagne region. Recently, two colleagues in the same village of Courteron were so impressed by the benefits that they have also switched, bringing the total to some 30 hectares in this village. Overall in Champagne, Jean-Sébastien reckons there are 8 or 9 growing doing biodynamics and a further 12 doing organics. It's a challenge, because this is a region that experiences high disease pressure.
'The key is soil health', he says. 'We must keep the earth healthy. The structure of the soil gives back the essence of the terroir'.