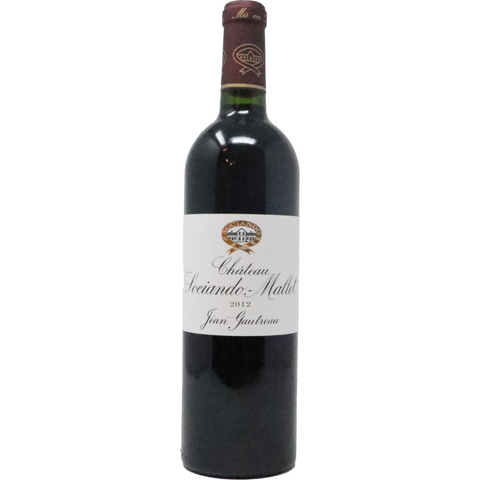 2012 Chateau Sociando-Mallet Haut-Medoc , Bordeaux, France
Dense colour, striklingly pure Cabernet cassis nose, richness of fruit and firmness of ripe tannins, a wine of real class and as usual one of the very best Haut-Médoc.
ABOUT THIS WINE
The wine of Sociando Mallet is vinified in a series of temperature-controlled, stainless steel vats and a small portion of traditional cement tanks. Malolactic fermentation takes place in vat.
Chateau Sociando Mallet is aged in a combination of mostly 100% new, French oak barrels, and the remainder is aged in tanks. On average, 95% of the harvest is aged in mostly new, French oak barrels, while the remaining 5% of the harvest is aged invats for about 12 months.
ABOUT THIS PRODUCER

Sociando Mallet takes its name from two previous owners. A nobleman from the Basque region, who was known as Sossiondo founded the estate in 1633.
In time, the name of the property was changed to match the phonetic sound to Sociando. The estate was confiscated and sold during the French Revolution. There was a time in the early 1800s when the property was known as Sociando-Lamothe.
In about 1850, the land was sold to a captain in the navy, who following the custom of the day, renamed the estate using his name of Mallet, and Chateau Sociando Mallet was born.
Jean Gautreau was born in 1927 in Lesparre, France. He did not come from a wine background. He discovered Bordeaux when he went to work as a Negociant in 1948. By 1957 he opened his own Negociant firm. Next, Jean Gautreau came up with the idea to provide mobile bottling trucks to the chateaux.
The modern age of Chateau Sociando Mallet began in 1969, when it was purchased by Jean Gautreau from the Tereygeol family for 250,000 French Francs, in part, on the advice Jean Michel Cazes of ChateauLynch Bages in Pauillac.
When Jean Gautreau bought Sociando Mallet in 1969, the property had fallen into poor condition.
The cellars, winemaking facilities, vineyards, and even the chateau, which was uninhabitable all needed work. As far as the vineyard, much of the land had gone fallow, as they had not been tended for years.
In fact, when Sociando Mallet was originally purchased by Jean Gautreau, less than 7 hectares were under vine. Today, the vineyard has almost 85 hectares, with much of that being cultivated with vines!
Jean Gautreau quickly began alternating the expanding of the vineyard with additional purchases and replanting selections of his newly purchased vines. He was also simultaneously remodeling and renovating the winemaking facilities.
He added new, temperature-controlled stainless vats and repaired the older concrete vats. Jean Gautreau also constructed a new, modern, tasting room with natural lighting and an incredible, unobstructed view of the Gironde.