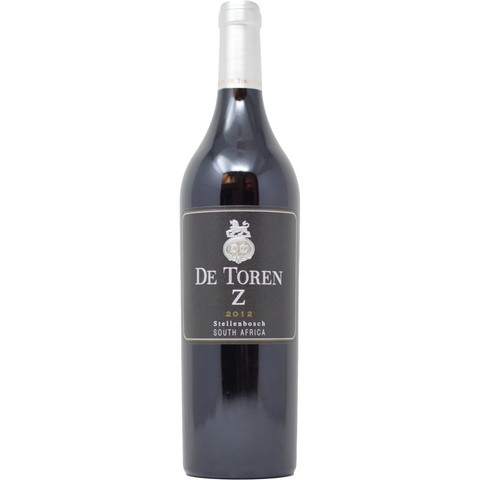 2012 De Toren "Z" Stellenbosch, South Africa
It delivers complex, appealing aromas and flavors of dark berries, cassis and black currant with hints of spice and herbs. The well-integrated flavors are balanced by a delicate acidity and smooth tannins that linger in the lengthy finish.
This sophisticated "Right Bank-styled" Bordeaux blend debuted as a complement to De Toren's legendary "Left Bank-styled" Fusion V. A higher proportion of Merlot makes this enchanting red softer and more approachable in its youth than its blockbuster counterpart.
Blend: 38% Merlot, 25% Cabernet Franc, 19% Cabernet Sauvignon, 10% Malbec, 8% Petit Verdot.
De Toren began with a view. Enchanted by the farm's panoramic vistas stretching from the Helderberg, over False Bay and across to Table Mountain, the founder and his wife, first bought the property in 1991, a home in the winelands "to start afresh".
However, their shared passion for wine soon took hold and it wasn't long before they became tempted by the prospect of producing premium wine from the farm, they called home.
De Toren "Z" was created by design born of cool ocean facing vineyards high in clay content conditions intensely suited to the planting of Merlot. Affectionately called 'Zee', this approachable ruby-hued beauty takes its name from the cooling Zephyr breeze that air-conditions the ocean-fronting vineyard block of its origin, one in which are featured all of the 'Noble Five' Bordeaux varietals, with Merlot in dominance.