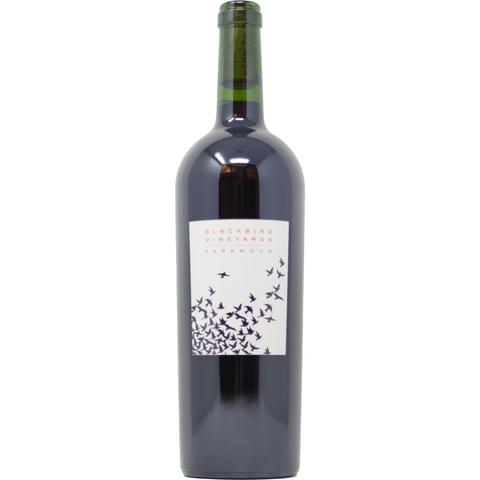 2013 Blackbird Vineyards "Paramour"
Exquisite aromas of violets, cedar, blueberry, and coffee envelop the nose of this classically-styled Cabernet Franc-blend. On the palate, layers of dark cherry, bramble, iron, and savory herbs combine with fine-grained tannins leading to a supple, round, and persistent finish. The most elegant of the Blackbird wines, Paramour will continue to develop for enjoyment over the next decade or more.

Blend: 52% Cabernet Franc, 34% Merlot, and 14% Cabernet Sauvignon.
Purchased by Michael Polenske in 2003, Blackbird Vineyards (a former walnut orchard first planted with 5, 717 Merlot vines in 1997) is now an ultra premium label in its own right. Fittingly, the word 'Merlot' is French patois for 'little blackbird.'
An early harbinger of Blackbird's potential arose when Mia Klein of Dalla Valle fame created a Blackbird Vineyard designate for her highly acclaimed 1999 Selene Merlot (no less than 95% of the fruit in the bottle must be from the named vineyard). Three of the top wine critics in the industry - Robert Parker, Stephen Tanzer, and Wine Spectator's James Laube - scored this wine in the 90s.
Blackbird's inaugural 2003 bottling, culled from a small crush of grapes that weren't already claimed by other vintners was awarded 98 points by Vinfolio, proclaiming it, "the best Merlot nobody had ever heard of."ACME FINE WINES news was equally enthusiastic, saying, "it is with wines like this that we never question why we are in this business."Blackbird's 2003 Merlot was also given a score of 95 points by Vintrust, which praised its complexity and richness, proclaiming it, "hedonistic in length."