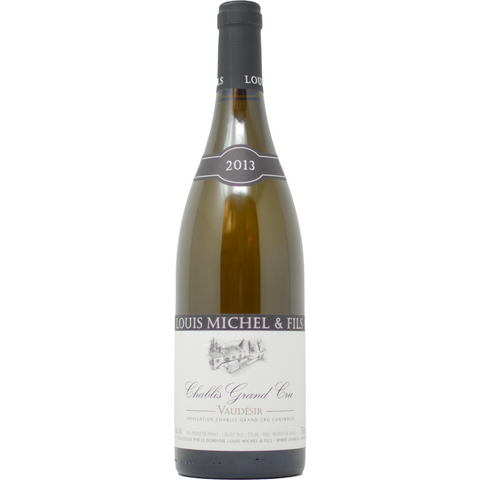 2013 Domaine Louis Michel Chablis Grand Cru Vaudesir, Burgundy
Gourmand, Grand Cru Vaudésir nose reveals notes of rhubarb and acacia flower. Fine and elegant in the mouth, with buttery, brioche aromas, and presence of oak.
This is the story of the Michel family, who has been making wines in the heart of Chablis since the 19th century.A firmly rooted sense of excellence is passed down from generation to generation. Louis Michel & Fils has always been a family business, and is managed today by Guillaume Michel, who takes great pride in perpetuating the Domaine's ethos.
The family vineyard, whose vines are 45 years old on average, is located in the heart of the original Chablis terroir, on the most prestigious parcels within a radius of two kilometers from the winery.
The Domaine's vineyards cover all four appellations: Chablis Grand Cru, Premier Cru, Chablis and Petit Chablis, offering the whole range of aromas that this unique wine can produce.The Domaine makes three prestigious Grand Crus – including the legendary Grenouilles – as well as seven Premier Crus.