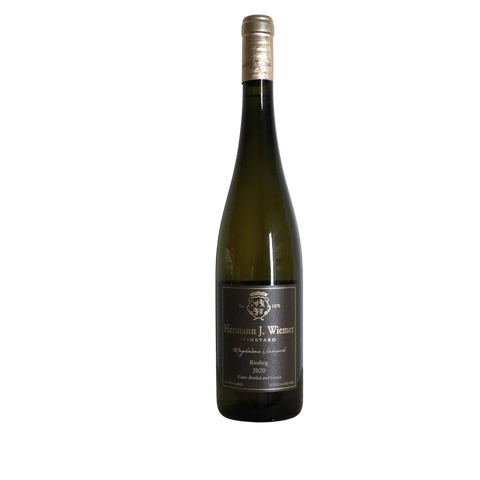 2020 Hermann J. Wiemer "Magdalena Vineyard" Riesling, Finger Lakes, New York, USA
A stunner year over year, this single-vineyard Riesling delves into earthy aromas of fennel pollen and sunbaked field flowers, with a solid core of yellow apple, and white peach. It's rounded and full in feel, filling out by broad pome- and stone-fruit flavors underscored by white tea and blossoms. A gentle honeycomb-wax note lends delightful grip to the dry finish.
ABOUT THIS WINE
Proximity to the lake extends growing seasons in the Magdalena Vineyard. The additional ripeness this unlocks can show through with striking intensity. Layers of ripe orchard fruit and tropical fruit coat the palate supported by broad, lingering acidities.
ABOUT THIS PRODUCER
The Wiemer estate spans 90-acres of prime vineyard sites on the western slopes of Seneca Lake and the wines are among the most acclaimed in the region. Estate fruit is hand-harvested and hand-sorted, and vineyard qualities are worked in small lots and then blended to create wines of balance and texture. Fermentations rely on indigenous yeasts to ensure each wine embodies the truest expression of site.
The namesake & founder, Hermann Wiemer, hails from one of the best Riesling producing areas of the world, Bernkastel, Germany. His mother's family had been making wine in Germany's Mosel Valley for more than 300 years and Hermann spent the summers of his youth learning to graft by hand. His father had been in charge of the Agricultural Experiment Station in Bernkastel and was responsible for restoring vines in the Mosel region after WWII. Hermann discovered that the cool climate and gravelly soils of the Finger Lakes were similar to his family's vineyards in the Mosel Valley. At a time when very few thought it was possible to grow vinifera varietals on Seneca Lake, Hermann believed that the unique soil types and moderating weather effects of the Finger Lakes would make it possible to produce great wines here.
In 2003, Hermann's apprentice Fred Merwarth took charge of winemaking and vineyard management. Fred's talent and ambition brought fresh energy and vision to the winery, placing it on a new trajectory. In 2007, Hermann officially retired, handing over the winery to Fred, who partnered with his university friend, Swedish agronomist Oskar Bynke, to carry on Hermann's legacy. Over the last decade, they have embraced and expanded Hermann's detail-oriented approach to viticulture and winemaking, extensively working on understanding the relationship between the vines and soils of the Finger Lakes.