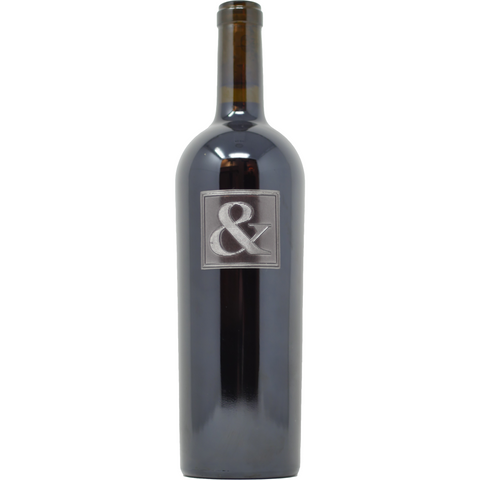 2013 Levy & McClellan Ampersand
Notes of black fruits, leather and tobacco, the Ampersand is a classic pairing for a big steak dinner or hearty Italian feast.

LEVY & MCCLELLAN was founded in 2004 by long time Napa winemakers and husband and wife, Bob Levy and Martha McClellan. Bob is a 4th generation Californian who grew up in Culver City (Los Angeles County). He remembers the first time he was introduced to wine – at age 17 by a brother in law – bottles became something he could collect and he started doing so. His first wines weren't the best wines as he admits, but invariably when you are new to the world of wine, they often become your most memorable wines.
After applying to a number of colleges he chose UC Davis not initially for wine studies but rather as a pre-med student. By the time of his junior year he had an epiphany, he could see himself practicing medicine for some time but then perhaps wanting to do something else – but with wine, he knew his interest already was such that it was a passion he could dedicate the rest of his life to. And he knew he did not want to live in an urban environment (which would probably be the case if he went into medicine). Despite growing up in a very urban environment he realized he preferred being outdoors in the natural world.
He changed career paths and began to study winemaking. It was a good time to be at UC Davis with a number of his classmates at the time eventually having long and storied careers in Napa including Mike Martini, Tim Mondavi, Randy Dunn, and Tom Rinaldi.
While at UC Davis Bob joined a number of tasting groups – both in Davis and in Napa including one hosted by Alex and Gayle Dierkhising (one of the valley's long time restaurateurs and current owners of the All Seasons Bistro & Wine Shop in Calistoga – which unfortunately permanently closed in 2020).
After graduating UC Davis he moved back to Los Angeles and worked in a hospital for a short stint. With Napa 'calling' he moved back to the valley in the mid 1970's and took his first winery job at Cuvaison where he recalls he earned $4.50 an hour rather then the normal $4 because of his degree in winemaking. It was at Cuvaison that he worked closely with winemaker Philip Togni for 5 years.
During his time at Cuvaison he met Koerner Rombauer who was just beginning Rombauer Vineyards (his winery was not yet built). Bob was the founding winemaker at Rombauer Vineyards; after the first two vintages he oversaw the construction of the winery in 1982 – the construction began in June of that year with the plan for the winery to handle the harvest later that year (today that would never happen in the valley with permitting – everything moves slower). Remarkably they were able to process the first harvest at the winery although they did not yet have power; Bob recalls they had to literally drag a large generator onto the property.
Rombauer became well known in the industry for offering custom crush services – one of their clients was Merryvale Vineyards (founded in 1983 by vintner Bill Harlan and his selected real estate partners). It was through Rombauer that Levy was introduced to Harlan – setting the stage for what would become one of the valley's most prominent long term winemaking relationships. Bob became Merryvale's founding winemaker in 1983 and oversaw the transition and renovation of the old Sunny St. Helena property where Merryvale moved their wine introduction to in 1989. After Harlan purchased his first 40 acres in 1984 Levy began to work with him in the subsequent years (making the 1987-1989 Harlan Estate wines at Merrvyale – vintages that were never released) and then later overseeing winemaking at BOND and The Napa Valley Reserve.
Bob and Martha originally met at an American Society for Enology and Viticulture conference in Portland. Martha earned a degree in Oenology and Viticulture from the University of Geisenheim in Germany (the only American in her graduating class). Prior to moving to the Napa Valley full time she worked at wineries in Germany and Australia.
She became an assistant winemaker at Merryvale in 1995 helping make several of the Harlan Estate wines (several vintages at Merryvale and later at Harlan Estate once the winery was completed). Later she became winemaker at the acclaimed Sloan Estate and Blankiet and is currently winemaker at Checkerboard Vineyards and consulting winemaker at Vineyard 7 & 8.