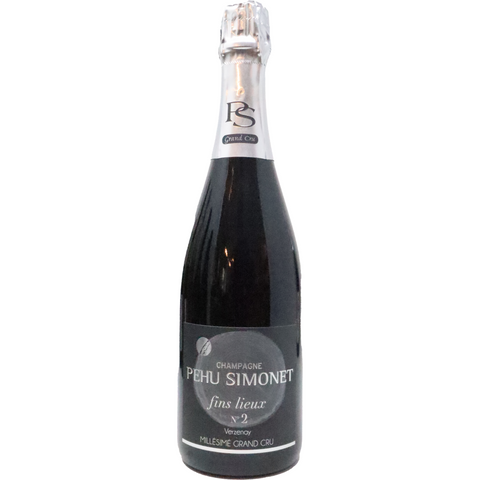 2013 Pehu-Simonet "Fins Lieux #2 Les Crayeres Verzenay" Blanc de Noirs Extra-Brut, Champagne, France
Filled with electrifying, multi-dimensional waves and a long-lasting mineral imprint. Savory, spicy, toasty, and utterly spellbinding experience courtesy of the Maillard reaction.
ABOUT THIS WINE
This is 100% Pinot Noir harvested from Verzenay Grand Cru; Les Crayeres de la Voies de Reims — Campanian chalk with clay. The wine did not undergo malolactic fermentation and was aged in 60% Barrique and 40% stainless steel. The wine spent 72 Months sur lie. Disgorgement on January 2021.
ABOUT THIS PRODUCER

David Pehu, the fourth generation to lead this estate produces wines that are quite different from Lallement's in every way except basic essential flavor. Verzenay is, after all, Verzenay. But David's wines are rather more glossy and fleshy, and correspondingly less sleek and filigreed. He has 7.5 hectares of which 6 are Grand Cru. The balance is Chardonnay in premier cru Villers-Marmery, but Pehu wants to bottle only Grand Cru Champagne and so this Chardonnay is sold off. His vineyards are a remarkably ecumenical group: Verzy, Verzenay, Mailly, Sillery and Le Mesnil-sur-Oger!
The terrain of Verzy is made up of belemnite chalk and two varieties of micraster chalk, made up of a variety of Cretaceous echinoids. Verzy's parcels form an extension of the famous vineyards at Verzenay on the northern slopes of Montagne de Reims. The best exposed slopes are those at an altitude from 150 to 200 meters (492 to 565 ft.). Oddly enough, Verzy was formerly a chardonnay village. It is today famous for its peppery, virile Pinot wines. With those of Verzenay, the pinot noir grapes here form the base for the finest Champagne vintages. A stony and gunpowder edge can be detected in the aftertaste, just as at Verzenay.
Vinification is either in tank or in barrel, depending on the particular wine. Pehu, who studied oenology in Burgundy, has been using barrels since 1988, and while most of his barrels are purchased second-hand from Burgundy, he's experimenting more and more with local oak from Verzy, coopered by the Tonnellerie de Champagne in nearby Cauroy-les-Hermonville. Pehu strictly avoids the malolactic for all of his wines, including the red wines used for making rosé, as he believes that blocking the malo better preserves the finesse and expression of fruit in the long run.