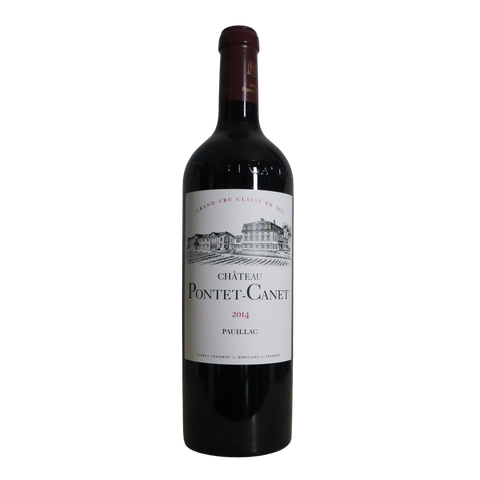 2014 Château Pontet-Canet Pauillac, Bordeaux, France
Deep garnet with a hint of purple to the color, the 2014 Pontet-Canet gives a very serious, classic Pauillac nose of blackcurrant preserves, baked blackberries and warm black plums with suggestions of menthol, pencil lead, woodsmoke, cassia and cast-iron pan plus a hint of baking spices. Medium to full-bodied, it fills the mouth with black and blue fruit preserves with a rock-solid frame of grainy tannins and bold freshness, giving lift to the long, exotic spice-laced finish. It is approachable now, but really should start to make jaws drop in another 4-5 years.
There are 10 units left in stock.
ABOUT THIS WINE
 65% Cabernet Sauvignon, 30% Merlot, 4% Cabernet Franc, 1% Petit Verdot. If the tale of the 2014 vintage were to be told, the story would begin with a particularly mild and damp winter. The first flowers emerged timidly in late May then, in the space of a warm and dry weekend, filled the air with their subtle and heady scent, with the result that in the end flowering was very even. 
Veraison, when the grapes start to change colour, began in late July and lasted until mid-August on account of the mixed weather. A true Indian summer set in during September, with hot days and very dry conditions which put a smile on winegrowers' faces again. There was no need for any special measures either in the vineyard or in the vat-house, where the colour and the tannins were easily extracted. Ultimately, 2014 will be remembered for its untroubled harvest and a crop in perfect health, the preconditions for a successful vintage.
ABOUT THIS PRODUCER
In 1865, the Cruse family took control of Chateau Pontet-Canet and following a doomed decision to eschew chateau-bottling, its quality spiralled down to an incredible degree. In 1973, the Cruse family were involved in an infamous Bordeaux wine fraud scandal. Although they appealed and all charges were dropped in 1975, the stain on their reputation still forced the sale of Pontet-Canet to Guy Tesseron who was a Cognac merchant at that time. In the late 1990s, the wines began gaining international recognition with the help of Michel Rolland and Chateau Pontet-Canet 1994 was regarded as herald of a renaissance for the estate, from which there was significant improvement in quality. Today, Chateau Pontet-Canet has clearly positioned itself as a 'Super Second' even though it is classified as a Fifth Growth.
Ever since Guy Tesseron and his son Alfred took control of this Chateau, its profile has risen remarkably. Now considered amongst the 'Flying Fifths', Pontet-Canet has become one of the most prestigious properties in Pauillac. The quality of the wine in recent years has been extremely high due to the investment in refurbishment and innovations, and the Tesseron family have instituted 100% bio-dynamic farming, one of only two Bordeaux estates to have done so. The wine is being consumed in bulk by consumers and is coming to the forefront as one of the top non-First Growth Pauillacs with the opening prices for the 2009 vintage doubling that for the 2005 one indicating growing popularity for Pontet-Canet. In fact, many would say Pontet-Canet have produced First Growth quality wine in the last five vintages – with their average parker score beating that of First-Growth neighbours Mouton Rothschild. From 2000 onwards, however, not only has quality continued to rise but the style has evolved in tandem, no doubt heavily influenced by the Tesseron-Comme innovations at Pontet-Canet. A lot of other estates are looking to Pontet-Canet's approach and consequent rise in stature.