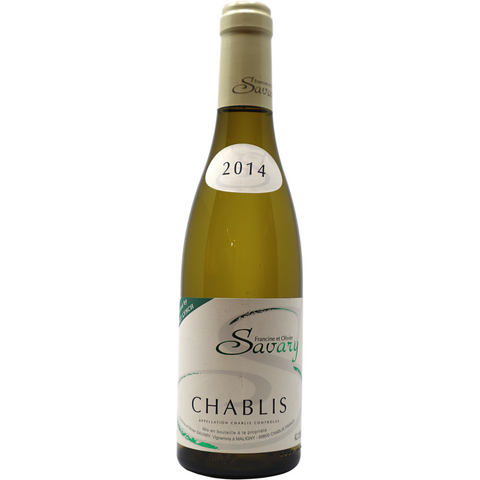 2014 Domaine Savary, Chablis, Burgundy France 375ml
Savary wines are textbook Chablis: crisp, racy, and mouth-watering, evoking typical aromas of white flowers, citrus, and crushed seashells.
In Maligny, a village well-poised between Paris and Dijon, just north of Chablis, Olivier Savary and his wife, Francine, have been vignerons since 1984. Though many of Olivier's family members were vignerons, an unfortunate series of challenging harvests discouraged his parents from joining the family business. Chardonnay runs strongly through his veins, however, and Olivier pursued wine school in Dijon regardless of the fact that he would have no vines of his own. Olivier and Francine arranged to farm some vineyard land en métayage (share cropping) in the Chablis and Petit Chablis appellations. With his father at his side to farm the complex network of vineyards, Olivier initially sold off the majority of his production in bulk to a négociant. Emboldened by their years of combined experience and family history of winemaking, Francine and Olivier finally found their wings and began bottling under their own label. In 1990, Olivier's longtime friend and Chablis legend Jean-Marie Raveneau introduced Olivier to Kermit. Today, Francine and Olivier are joined by their sons, Maxime and Mathieu, whose ambition and young energy ensures a bright future for the domaine.

The Savarys have finally earned the recognition for their hard work, and are highly regarded in the appellation. The clay-limestone hillsides of the Kimmeridgian chain are excellent for growing dazzling, complex Chardonnay, also known here as "Beaunois." However ideal the soil, Olivier brings his own brilliance to the table. The grapes from his vineyards throughout the Chablis appellation are blended into one fabulously complex village wine cuvée. He also bottles an extraordinary premier cru from Fourchaume, as well as a separate cuvée of old-vine fruit in heavy, wax-sealed bottles after élévage in demi-muids. These exquisite wines are quintessential Chablis, with unmistakable aromas of ancient crushed shells and a pronounced, racy mineral structure.