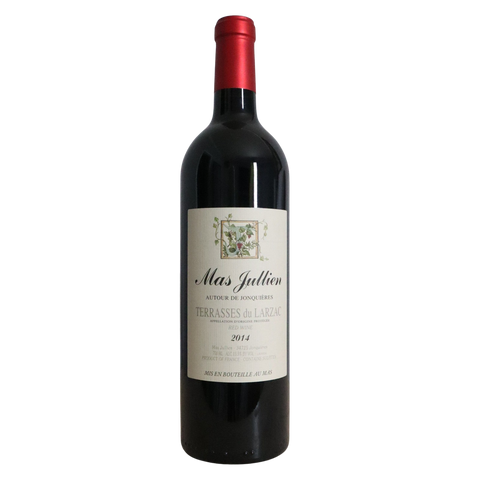 2014 Mas Jullien Terrasses du Larzac "Autour de Jonquières", Languedoc-Roussillon, France
The wine cascades into the glass with concentrated dark ruby and crimson tones. Black currants, black cherries and plums caress one moment, then overwhelm the senses in another. There's deep, palpable power and tannins here, but also an ever-present sense of finesse and balance. Aromatics are a brooding, subterranean mix of garrigue, black olive, and charred meat—but again, this is in no way a heavy or burdensome wine.
There are 4 units left in stock.
ABOUT THIS WINE
Aged 2 years in a combination of demi-muids and large foudres, "Autour de Jonquieres" is built on the back of old-vines Mourvedre (40%) planted in poor limestone soils, with 40% Carignan and 20% Syrah as well, also from very old, minuscule-yielding vines. This cuvée displays that uncanny combination of elegance and power that characterizes so many of France's truly great wines. It is both rugged and refined, both tenacious and supple, with a harmony of elements that suggests great cellaring potential. For its complexity, profound terroir expression, visceral pleasure, and long age-ability, we wager that there are few greater values for serious red wine to be found in all of France than Mas Jullien.
ABOUT THIS PRODUCER

Mas Jullien is known for having spearheaded the revival of Languedoc wines. It is located in Joncquières, north of Montpellier, and covers around twenty hectares.

The owner Olivier Jullien never hesitates to sell or buy land, actions which he does very regularly. He embarked on the adventure in 1985, with the help of his right-hand man Jean-Baptiste Granier, the son of Jean-Philippe Granier (technical director of the Languedoc slopes). The soils are composed of clay-limestone, with pebbles, but also with silica and sandstone.

The vineyard is worked with respect for nature; the estate was previously certified organic, but the owner wanted to stop in order to remain free in his work. Mas Jullien has state-of-the-art winemaking equipment but Olivier Jullien only uses it when he has to, preferring homeopathy to the excessive use of modern techniques.