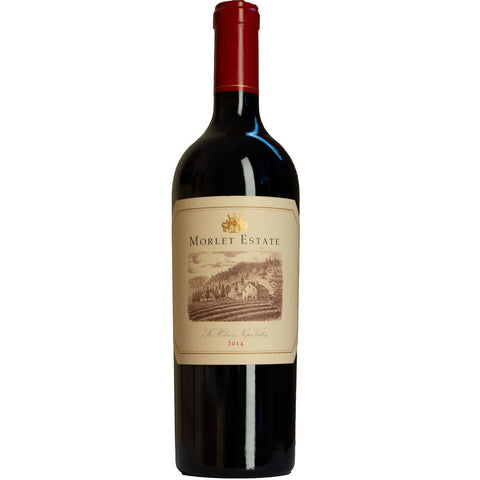 2014 Morlet Cabernet Sauvignon "Estate", St. Helena, Napa Valley, USA
Dark and deep with a hue of deep bright ruby red. Intense and complex bouquet of red cherry and blackberry intermixed with notes of minerals (graphite, wet river rocks), licorice, fresh blond tobacco and a hint of fresh blackcurrant.
There are 3 units left in stock.
ABOUT THIS WINE

Our unique estate lies on the western foothills just north of the town of St. Helena. Shallow loamy topsoil, rocky alluvial subsoil and full sun exposure create ideal conditions for our Cabernet Sauvignon vines. We restored the 1880 stone winery, which is illustrated on the label. Handcrafted using classical winemaking techniques and with the uncompromising and ongoing pursuit of quality, this wine represents the precious essence of a very special place, which our family calls home. Harvest was done by hand and the grapes were sorted cluster by cluster then grape by grape. After fermentation through native yeasts the punchdowns were implemented in order to extract color and tannin. The wine was then further aged for 16 months in French oak from artisan coopers. The wine was bottled unfiltered.
ABOUT THIS PRODUCER
Beginning with the 2006 vintage, Luc & Jodie Morlet have been handcrafting vineyard designated wines and unique cuvées of Cabernet Sauvignon and Cabernet Franc from the Napa Valley as well as Chardonnay, Pinot Noir, Syrah, a Proprietary white Bordeaux-style blend and a Late Harvest Sémillon from Sonoma County. Meticulously farmed vineyards and low-intervention winemaking techniques produce powerful yet refined wines.
By taking old world principles and adapting them to California, the Morlet style results in wines which are harmonious in their intensity, richness, complexity and refinement. It is this notion of harmony that inspired their logo, based upon 19th century French artist Mathurin Moreau's sculpture entitled, 'L'Harmonie.' The Morlet wines clearly display personality, seamless character and graceful ageing capability.
All of the Morlet's wines are handcrafted using classical winemaking techniques from Burgundy and Bordeaux and matured in only the finest 100% French oak barrels.