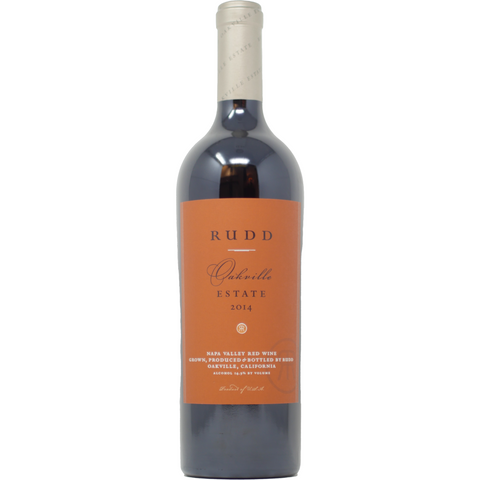 2014 Rudd Estate Oakville, Estate Red
Notes of scorched earth, blackberry and cassis, still dramatic, flamboyant and full-bodied. The 2014 can be approached already. This wine is a full-bodied, classic Oakville corridor wine, but made with almost a Bordeaux inspiration.
Founded in 1996 by Leslie Rudd, Rudd Estate is a multigenerational winery handcrafting small production wines that reflect the ultimate expression of its world-class terroir by respecting the traditions of the past, challenging the present and imagining future possibilities. Over the course of two decades, the team at Rudd Estate has become intimately familiar with the geologic nuances that make its terroir unique: iconic red volcanic soils, the alluvial fan, and the subterranean stream beds. Vineyards located in Napa Valley's most celebrated Oakville appellation produce red Bordeaux varietals, and vineyards located on Mt. Veeder at a 1500-foot elevation produce Rudd's Sauvignon Blanc and Susan's Blanc. These white wines are a unique expression of these varietals and a rarity in the Valley given hillsides are typically reserved for red varietals.
Samantha Rudd recently took the helm of Rudd Estate and has championing organic and biodynamic farming practices with the support of the winegrowing and vineyard team. Committed to creating an environment where hard work, creativity, innovation, and craftsmanship are valued, she instituted an Unlikely Collaborators Residency Program in 2016. This multi-disciplinary residential program for individuals in the arts, sciences or business who share Rudd Estate's values and would like to have the opportunity to collaborate with the Rudd team, exploring new ideas in the idyllic setting of the Napa Valley. In today's device-driven world, there is little opportunity for individuals with shared values but different backgrounds to connect face-to-face and learn from and be inspired by one another. The program's goal is to help correct this and to encourage individuals with different perspectives and sets of experiences to engage one another in order to facilitate innovative ideas and creative solutions that will add value to both parties' present and future endeavors.