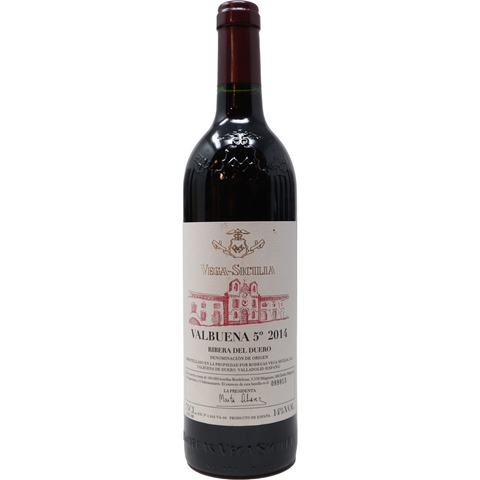 2016 Vega Sicilia "Valbuena 5", Ribera del Duero, Spain
A polished texture carries focused flavors of cherry, licorice, espresso and mineral in this lithe red. The tannins are firm and well-integrated, the acidity clean and fresh. Has muscle, but remains elegant.
ABOUT THIS WINE
Valbuena, is the purest expression of the Tinto Fino (Tempranillo) in Vega Sicilia. Tinto Fino is clearly the predominant wine in the assemblage of the varieties that make up this magnificent wine. The other variety used is Merlot, which is added to a greater or lesser extent depending on the vintage.
The Valbuena Tempranillo is obtained from plots located on gentle concave slopes that descend from the wasteland. Those soils are made up of material that was eroded and accumulated as colluvial on the lower slopes, developing a high profile soil, with a specific important evolution with the formation of a deep calcic horizon.
Valbuena provides us with a direct and understandable view of the greatness of this "terroir" with the direct influence of each vintage. Its production remains unchanged meaning that it is each year's weather factors that mark the differences between the different harvests.
Fermentation at a controlled temperature with native yeast in stainless steel tanks. Malolactic fermentation also takes place in stainless steel.
After fermentation, it is aged for five years, between wood and in the bottle, which is why it is called Valbuena 5º. French and American wood, new and used 225-litre barrels, 20,000 litre vats, a long and complex process for a great wine.
ABOUT THE PRODUCER
There are people who believe that the myth of Vega Sicilia was due to its being an aristocratic wine, in scarce supply, and only within the means of a fortunate few; an object of desire that only a privileged minority could enjoy. However, what many do not know, is that the real origin of the legend lies in a story of hope, commitment and patience on the banks of the River Duero, as it runs through the heart of Castilla, where the river laps against and nourishes a unique and exceptional, nearly magical estate.
This wise, hard, gnarled and barren land was destined to something great. It had to join forces with time to fulfil its great dream: to give the best of itself, achieve extraordinary crops that would fill it with pride and show off the splendour of nature. Yet, to do so, land and time needed man's help. Someone to be their eyes and hands andfarm in line with nature's rhythms. As only in that way, when we are humble enough to accept nature's way, do we achieve exceptional results.
Centuries passed waiting for someone to listen to the call of this magical land. And very few people have the gift to see further, to listen to what others hear, to feel what others do not feel. Until one day, fate brought along a man who listened to its call, a man who followed his intuition and change the traditional crop of cereals for the best vine stocks of the 19th century. A man who knew how to learn from nature, patiently respected its rhythms, looked after the land and protected time, thus achieving a perfect balance.
Autumn was the time of the grape harvest and the land could, after all, begin to dream, for which it was pre-destined; the grapes proved to be of an unrivalled quality and personality and, after maturing in the silence and solitude of the winery, became one of the greatest legends of the history of wine. Vega Sicilia was finally born