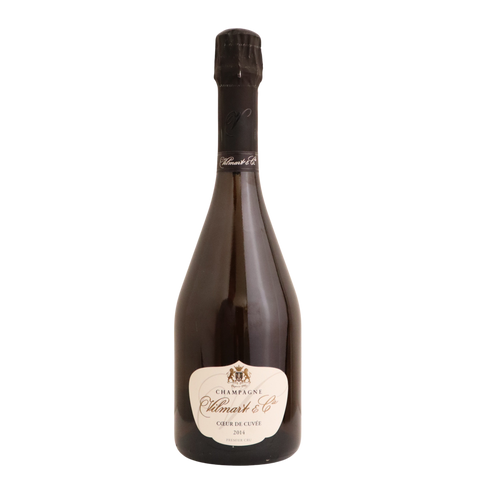 2015 Vilmart & Cie "Coeur de Cuvée" Brut Premier Cru, Champagne, France
Straw yellow color, nose of flowers and fresh fruit and subtle lemon. "Crème brûlée" on the palate with spices and exceptional freshness. Dominant citrus fruit and salinity on the finish.
ABOUT THIS WINE:
Blending composed of 80% Chardonnay and 20% Pinot Noir classified Premier Cru and from vines ofsixty years old age in Rilly-la-Montagne. In agreement with its certifications of Viticulture Durable (Sustainable Viticulture) and Haute Valeur Environnementale (High Environmental Value), Vilmart House cultivates its vineyards in the greatest respect of its terroir. Vinification key points: • Manual harvest 2014 • Developed exclusively with the heart of the cuvée (1400 l instead of 2050 l) • Aging process:ten monthsin oak barrels of 228 l • Seventymonths on liesinthe cellars after bottling • No malolactic fermentation • Dosage: 7 g/l
Pair with Crayfish and porcini mushrooms, scallop tartare or a "foie gras" pan-fried will bring depth and a beautiful aromatic evolution.
ABOUT THIS PRODUCER

"
Vilmart & Cie looks back at a long history of grape growing and winemaking. It was founded as récoltant manipulant house in 1890 by Désiré Vilmart, in the village of Rilly-la-Montagne. Today, Laurent Champs, the fifth generation of the family, oversees the domaine.
The estate is located in the western end of the Grand Montagne and most of the holdings here are in the Premier Cru of Rilly-La-Montagne with a few small blocks in neighboring Villers-Allerand. Laurent farms 10 parcels over 11 hectares, an anomaly as most estates have many small parcels. This allows Laurent to farm with organic methods; his father practiced biodynamic viticulture and Laurent continues in this vein.
Like many of the villages in this area, Rilly faces north. This is the same exposition of Verzenay and Mailly Grand Crus, for example. However, the holdings of Vilmart are in a privileged place. Laurent has a large block of vineyards on a south facing hillside on the other side of the village, in the direction of Montbré, which rises to the north. This vineyard is called Blanches Voies, a due south section of 65-year-old ungrafted Pinot Noir and Chardonnay vines here go into Laurent's Coeur de Cuvée, his top wine as well as Grand Cellier d'Or, his vintage wine and a new single site Blanc de Blancs, called Blanches Voies. Vilmart's other parcels are in the south west facing vineyard of Hautes Grèves, another vineyard with both Chardonnay and Pinot planted.
Laurent ferments and ages all his wines in oak: large 2200–5500-liter foudre and demi-muid for the NV wines and smaller barrique as well as demi-muid for vintage wines. Malolactic fermentation is always blocked, giving the wines a crisp acidic structure coupled with the richness of the fermentation and aging regimen. Vilmart's wines are at once ripe and structured, perfectly walking the line between hedonism and austerity, expertly balanced, and always exceptional.
"Vilmart & Cie. is not only one of the greatest grower-estates in Champagne, but one of the finest Champagne producers of any type in the region. " Peter Liem