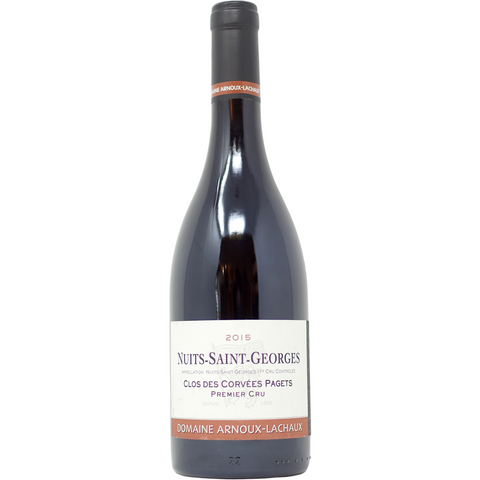 2015 Arnoux-Lachaux Nuits-Saint-Georges 1er cru Clos de Corvées Pagets
Very prestigious Premier Cru vineyard located in Premaux-Prissey. The terroir is especially stony, which imparts particularly interesting and mineral flavors into this wine. Big, rich flavors with loads of black cherry notes and incredible structure. Perfect

Questions always arise when a domaine is passed down to the younger generation. Will the wines be as good? Is he or she ready to take over? How can she understand the terroir to the extent of her father – OR does terroir speak louder than the winemaker and there is no change to the wines? It's an interesting question and it's subject to opinion. The stakes are high when the wines that you are making are some of the rarest and most sought after in the world. In the case of Romanee Saint Vivant for Charles Lachaux, he only had one chance in 2012, as he only made a single barrel. Talk about pressure! Charles Lachaux visited the Bowler team in April and he seemed very calm about his first vintage. He explained that harvest was so busy, that he didn't have time to consider an undesirable outcome.
Earlier in the year, the Bowler team tasted the 2014's from barrel with Charles's father, Pascal – who is still very much present in the winery. It was unanimously a highlight of our trip in 2016. We've always been impressed when tasting at Domaine Arnoux-Lachaux. After all, they have some of the most prized vineyards in Vosne-Romanee and equally high-quality vineyards in Nuits-Saint-Georges.
It's no doubt that Pascal Lachaux must have gone through the same pressure when he took over from his father-in-law, Robert Arnoux, in the early nineties. Pascal worked side-by-side with Robert for more than ten years. The changes that Pascal made in the nineties were a natural progression at the time: pruning for lower yields, working the soil, destemming grapes 100%, and using more new oak for aging. The reputation of Domaine Robert Arnoux soared with Pascal Lachaux at the reigns. In 2010, Remington Norman and Charles Taylor MW said, "This is one of the very best domaines of an exceptional village."
Charles Lachaux gives an immense amount of credit to his father for the work that he has done over the last thirty years. He said that if he has elevated the wines to a new level today, it is thanks to the health of the vineyards and the organization of the winery when he started in 2012.