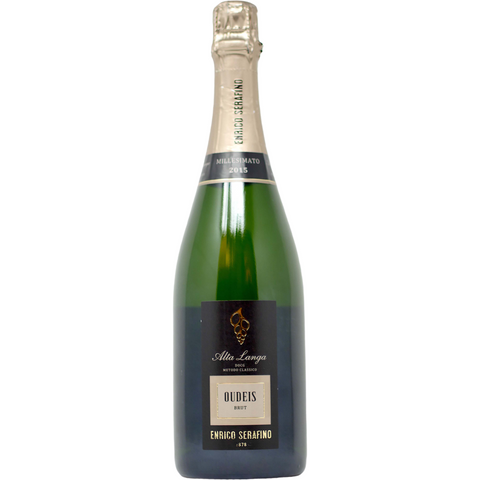 2015 Enrico Serafino Alta Langa Brut
Brilliant pale yellow. Intense aroma rich in honey scents, white flowers, white fruits enhanced with bread crust and fine yeast aromas. Fine and persistent pérlage. Complex aroma, elegant, fresh and with good salinity at the same time, with long mineral persistent finish.
For more than 140 years, we have harvested grapes from Barolo, Langhe, Roero and Monferrato.
Today, Enrico Serafino is still family-owned maintaining the original artisanal soul, respect for future generations and passion for details that have distinguished the winery since the beginning.
The "Sparkling Metodo Classico or Champenoise", was first employed in Italy in Piemonte in 1850. Enrico Serafino started its own production in 1878 in the same dedicated underground cellar as used today.
The chardonnay and pinot noir are grown in the highlands just behind the Barolo and Barbaresco hills: the Alta Langa. The result is the very selective Alta Langa Docg, with incomparable rules touching the altitude of the vineyards, at least 250 meters a.s.l., the mandatory vintage, as well as the time of fermentation in bottle "on the yeasts", 30 months minimum.