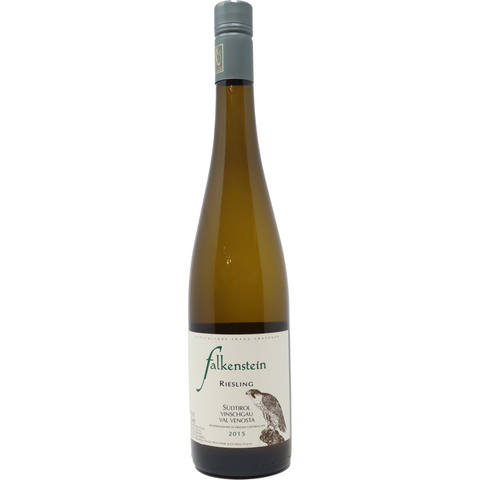 2015 Falkenstein Riesling, Suditrol, Italy
This wine presents a delicate bouquet of yellow fruits and well-structured acidity, with a mineral touch.
The Falkenstein farm winery & vineyard is to be found on the slopes of the Sonnenburg Mountain in Naturns. The story begins in 1989, when Franz and Bernadette Pratzner decided to abandon their apple orchards and dedicate themselves exclusively to viticulture.
The impervious terrain of primary rock, exposed to the south, lends itself perfectly to the growing of vines. The grape vines extend over an area of twelve hectares at altitudes of between 590–900 m a.s.l., producing around 90,000 bottles per year. The vineyards are dedicated mostly to white grapes, with a small part for Pinot Noir. Among the varieties cultivated, Riesling is the most outstanding.
Franz and Bernadette work mostly manually, with machinery employed only in a supportive capacity. Since 2003, all wine-making is carried out in the purposely-built wine cellar. The architect responsible absorbed into the design the family's desire to create a harmony between the old and the new. For this reason a wine cellar in stone was built, joined to the more modern building, in which the white wines are today perfected.