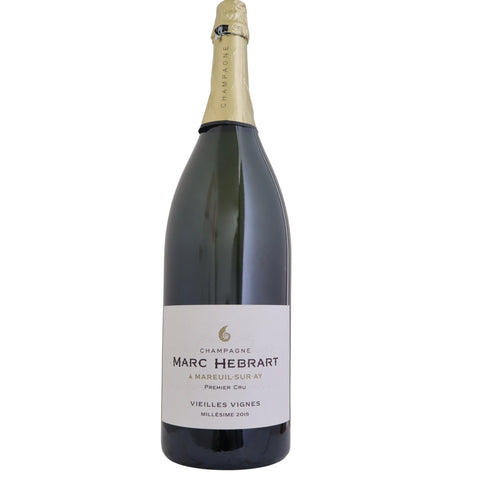 2015 Marc Hébrart "Millésime"Brut, Champagne, France - 3L JEROBOAM
The 2015 Brut Spécial Club Millésimé is bright and beautifully chiseled from start to finish. Chardonnay features a bit more heavily here than it does throughout the range. Lemon confit, sage, mint, tangerine oil, crushed rocks and a host of saline inflections all build in the glass. There are some slightly vegetal undertones that are typical of 2015, but they aren't overpowering, at least not at this stage.
There are 1 units left in stock.
ABOUT THIS WINE
This is actually the juice from Hébrart's 2015 Special Club! They do not make 3L bottles for Special Club so they called it "Mellesime". 3 liters of their best wine!
Blend of Pinot Noir and Chardonnay from the villages of Grand Cru sites Mareuil-Sur-Aÿ, Aÿ, Louvois, Oiry, Chouilly. 36+ months on lees and aged in stainless steel. 
ABOUT THIS PRODUCER

Jean-Paul Hébrart took over the operations of Marc Hébrart Champagne in the Vallée de la Marne from his father Marc in 1997. This estate is not exactly new: Jean-Paul's father has been producing champagne under the Marc Hébrart name since 1964 and has been a member of the Special Club since 1985. Hébrart farms 14 hectares of vines on 65 different sites in 6 villages: the 1er cru vineyards of Mareuil-sur-Aÿ, Avenay, Val d'Or and Bisseuil and the grand crus villages of Aÿ as well as Chouilly and Oiry in the Côte des Blancs.