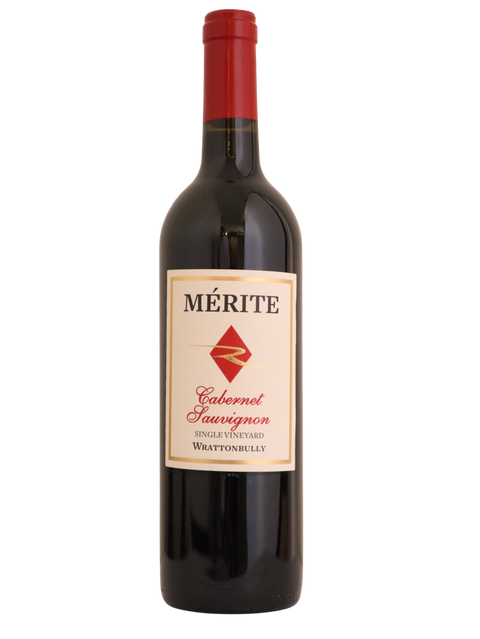 2015 Merite Cabernet Sauvignon, South Australia, Australia
A complex and age-worthy style of Cabernet Sauvignon, with nuance, structure, and a great Aussie character. Aromas of cinnamon myrtle, vanilla, Dorrigo pepperleaf (a menthol-like native leaf), and black currant. The palate has regal tannins, length, complexity, all built on a midweight and slightly transparent palate. Oak provides polish and seriousness without overwhelming the flavors.
ABOUT THIS WINE

Veraison and vintage were one of the earliest on record for Wrattonbully. Cool days and nights during harvest allowed for an elongated harvest, resulting of wines of brightness and expression at lower alcohols. Generally regarded as an exceptional vintage for Wrattonbully.
Varied top soils, including the terra rossa red, silty clays made famous by neighboring Coonawarra, are over a limestone bedrock and system of caves. The vineyard sits 110m above sea level, making it the highest planting in Wrattonbully.
Grapes are hand-picked and sorted via an optical berry sorter, crushed and destemmed. Primary ferment conducted at 23° Celsius. Twice daily pumpovers in small batch stainless steel fermenters. After 7 days, ferments were drained and pressed, and racked into barrel. The wine is aged in a combination of Sylvain French oak and Demptos Hungarian oak, 50% new, for 18 months. Egg white fined.
ABOUT THIS PRODUCER
Mike and his wife, Colleen, purchased land in the Wrattonbully district in 2000 and went about planting the vineyard to cabernet, shiraz, malbec, and merlot. Merlot was of particular interest to Mike, as he felt the region and the soils on the site might well prove to be perfect for it. When newer clones became available in Australia, Mike set about planting the ultimate 18ha parcel with each clone, driven by an obsession to create the country's best merlot.
Now, Mike and Colleen are creating wines from their vines. As vignerons, they have been actively involved since the establishment of the vineyard, to growing the grapes each vintage, winemaking, marketing, and sales. They started with the 2013 Merite Merlot and critics sat up and took note. "Unlike any other Merlot I know" wrote one, "a new benchmark" wrote another.
In 2020, in the middle of lockdowns, they shipped our first export orders to the USA and UK.
Yet they feel they are just getting started...