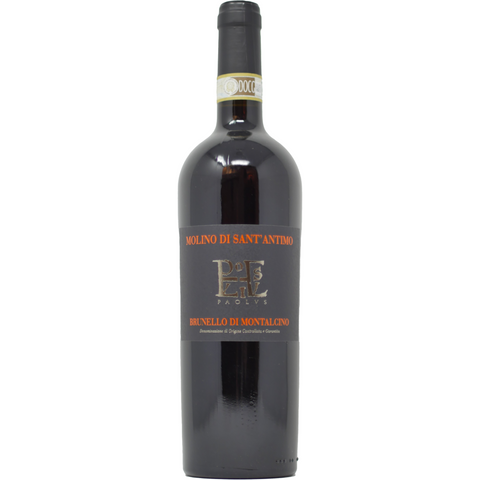 2015 Molino di St. Antimo Brunello di Montalcino, Tuscany, Italy
The unique soil in combination with a traditional winemaking style give this Brunello richness and roundness to fall in love. This Brunello is easy and approachable and also well priced. It entices beginner and experienced wine lovers alike.

Today most of the larger producers of Brunello have at least some of their vineyards in the area around Castelnuovo dell'Abate. While the first 'Sangiovese Grosso' vines were growing, Carlo Vittori acquired the ruins of the mill, 'Molino di Sant'Antimo,' dating from the 1300s, from the Ciacci family. After some research, the long restoration work began to preserve the former characteristics of the building and its historical value. It seemed natural that the farm should take its name from the mill, and that the logo and labels should originate in the seal found at the nearby Abbey of the first Bishop Paolus. In the same period Carlo Vittori met the artist Sandro Chia for the first time so when the artist decided to purchase the 'Castello di Romitorio' for the production of Brunello and as his home in Italy, Carlo Vittori took on the restoration and development of the castle and its land. He directed it down the same long and ambitious road as the family farm. Today both the image and products, thanks to much hard work, have an international reputation. By the early 1990s, the 'Azienda Molino di Sant'Antimo' had about 30 hectares of land, half cultivated with olives and vines and the rest consisting of the surrounding woodland and Mediterranean bush. At the beginning of the new century, as always with his family, Carlo Vittori put the finishing touches to the restoration of 'Podernuovo ai Campi' a traditional farmhouse dating from the 1800s surrounded by adult vines. This is now both the headquarters of the business and the family home.