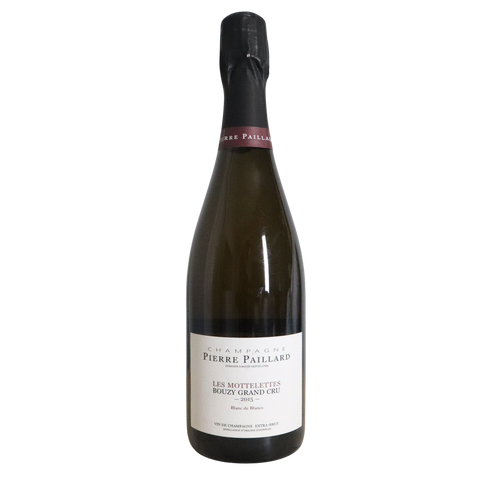 2015 Pierre Paillard "Les Mottelettes" Blanc de Blancs Bouzy Grand Cru, Extra Brut, Champagne, France
Lemon zest, pineapple, pear, and vanilla. A clear structure is complemented by crunchy acidity and a silky texture. The aftertaste is elegant, plentiful and fresh.
There are 8 units left in stock.
ABOUT THIS WINE
Blanc de blancs from Bouzy? Yes--and what a blanc de blancs it is! This single-varietal, single-vineyard, single-harvest Champagne comes entirely from the Les Motellettes parcel which was planted in 1961. Quentin Paillard, his brother, and his father all wanted to make terroir Champagne from their best, oldest plots--the very plots that they use to propagate the massal selections for the rest of their vineyard. 
ABOUT THIS PRODUCER
Champagne Pierre Paillard is distinguished by one of those wonderful styles that amazes you with its complexity, elegance, and refinement, revealing the soul of Grand Cru Bouzy to you. Historically, the ownership of the Paillard family began in 1768. The Commune of Bouzy is known for its Pinot Noir wines and is located in the heart of the great terroir of Montagne de Reims. 
Today the family is represented by the brothers, Antoine and Quentin Payar, who continue the tradition of quality, and respect for the soil and grapevine. Thanks to such a philosophy, they succeed in amazingly accurately demonstrating the subtlety and magnificence of Bouzy's stunning terroir. The area of ​​30 vineyards occupies 11 hectares, which are planted with Pinot Noir (60%) and Chardonnay (40%) vines. Part of the crop is used to create original and unique dry wines. In the last 20 years, chemical fertilizers have not been used here and they adhere to organic methods of viticulture.