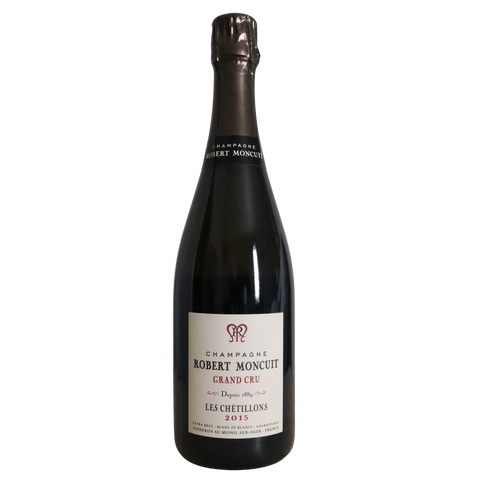 2015 Robert Moncuit "Les Chétillons" Blanc de Blancs Grand Cru, Extra-Brut, Champagne, France
2015 Blanc de Blancs Grand Cru Les Chétillons is only the fourth rendition of this cuvée to date. Wafting from the glass with a bouquet that mingles notes of confit lemon and orange zest with aromas of honeycomb, white flowers, smoke and subtle hints of petrol, it's full-bodied, vinous but incisive, with incredibly concentrated, penetrating flavors, racy acids and a chalky finish. Powerful but weightless.
There are 11 units left in stock.
ABOUT THIS WINE
The first vintage of Chetillons produced by Champagne Robert Moncuit was from the 2008 vintage. Les Chetillons, made famous by Champagne Pierre Peters, is a vineyard we have long admired. It encapsulates the heights that Chardonnay can reach in the Côte des Blancs. Robert Moncuit's Les Chetillons comes from a two-hectare parcel planted in 1956 in the village of Mesnil.
It is fermented in tonneaux and left in barrel until the April after harvest. The wine undergoes malolactic fermentation. It is bottled the July after harvest and is aged on cork before being disgorged. The wine is not chaptalized or filtered and is zero dosage.
ABOUT THIS PRODUCER
Robert Moncuit's grandfather bought the domaine's first vineyards on the Côte des Blancs in 1889. In 1928, Robert Moncuit took over the business in the third generation and launched his own collection - exclusively of Grand Cru Chardonnay from Le-Mesnil-sur-Oger, which is one of the best terroirs in Champagne. Since 2000, grandson Pierre Amillet, a highly talented enologist, has been in charge of the winery, continuing his family's vision: to bring out the terroir of Le Mesnils as authentically as possible, using few herbicides and strengthening the natural microcosm of the vineyard.
All of the family's vineyards are located in Le-Mesnil-sur-Oger, including a full 2.17 hectares in the famous Les Chétillons site, some with vines dating back to the 1950s. Until 2008, rather classic basic cuvées and vintage champagne were produced, finally a rosé was added. Pierre then finally caught the single-vineyard fever and - perhaps spurred on by the success of his neighbor Pierre Péters - now there is also a Lieu-Dit Les Chétillons.