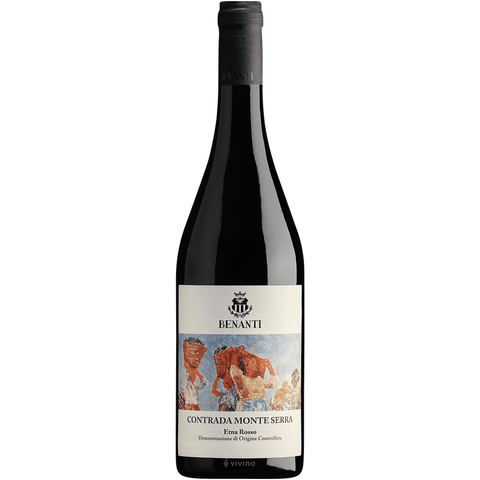 2016 Benanti Contrada Monte Serra, Etna Rosso, Sicily, Italy
This single-vineyard Etna Rosso is a must-have for lovers of all things volcanic. Aromatic and rich, the wine shows flavors of wild berries, nutmeg, flower petals, and sour cherry, marked by grainy tannins and a lingering, acid-driven finish. Drink now and over the next few years.
ABOUT THE WINE
All bush vines (ranging from 14-100 + years old) on terraced single vineyard on the slope of Monte Serra, an ancient extinct volcanic cone within the territory of the village of Viagrande, on the south-eastern flank of Mount Etna.
The grapes are hand-picked, de-stemmed and pressed softly. The wine is aged for 12 months in French Barrique.
ABOUT THE WINERY
Winemaking in the Benanti family can be traced back to the late 1800s in Viagrande. This deep-rooted passion for wine is what led Giuseppe Benanti to establish the namesake winery in 1988. Located on Mount Etna, "an island within the island" of Sicily, the Benanti family produces wines using 100% native grapes – Carricante, Nerello Mascalese and Nerello Cappuccio. With vineyards positioned on four different slopes of the Etna volcano: North, East, South-East and South-West, the climatic influence and volcanic soils from each slope combine to create territorial wines with a "sense of place." Benanti is the only winery with vineyards on every slope of the Etna DOC area.
Benanti is the only winery with vineyards on every slope of the Etna DOC area.
After 25 years at the helm of the winery and greatly contributing to the development and growth of the whole region, Giuseppe passed the torch to his sons in 2012. Antonio and Salvino Benanti now lead the winery with the same vision and passion as their father, continuing the reputation as a very traditional producer and the pioneer of fine wine making on Mount Etna.