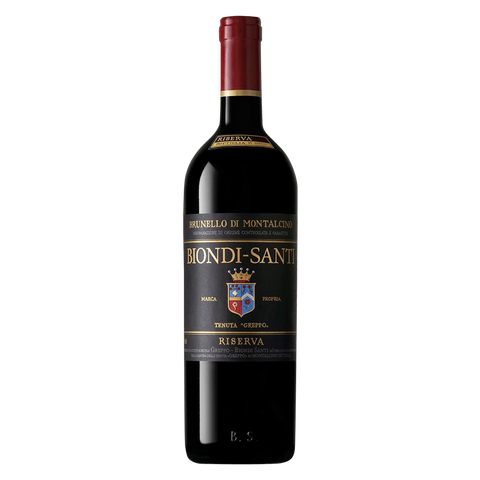 2016 Biondi Santi Brunello di Montalcino Riserva, Tuscany, Italy
The 2016 Brunello di Montalcino Riserva is a truly majestic wine. The bouquet is packed with intense fruity notes of black berries, pomegranate, and plums, intertwined with scents of Mediterranean herbs such as thyme, rosemary, and sage, rising from a carpet of forest floor. On the palate, the wine seduces with exuberant charm and caressing sweetness. The youthful tannins reveal its immense structure and contribute to creating a distinctive sensation of freshness which leads us towards a long-lingering, savory finish.
ABOUT THIS WINE
The 2016 Riserva was produced exclusively with selection grapes from our proprietary vineyards, comprised of our old parcels. The season began with a rainy winter, followed by a rainy spring with mild temperatures. The summer months brought sun, warmth, and stability with temperatures lower than the seasonal average. Rainfalls between the end of August and the beginning of September extended the pre-harvest time, favoring a very slow but balanced ripening of th grapes where the fruit benefitted from important day/night temperature swings, which enriched the aromatic profile.
The 2016 Riserva was vinified in vertical Slavonian oak barrels by using indigenous yeasts, selected in our vineyards. Successively, it was aged in Slavonian oak barrels for 3 years.


ABOUT THIS PRODUCER

It is a rare phenomenon that a wine can trace its origins to a single man. Brunello di Montalcino, however, owes its existence to Ferruccio Biondi-Santi and its fame to his family. Now on the seventh generation of winemakers, the Biondi-Santi family continues to produce wines renowned for their elegance and extraordinary longevity. Located in the heart of Montalcino, the Tenuta Greppo estate spreads over 25 hectares of vines on soils rich in heavy stones and marl – perfect for the cultivation of Sangiovese Grosso. Defenders of a rich enological heritage, the family continues to employ traditional vinicultural methods started well over a century ago to highlight the wine's unique characteristics, or tipicita.