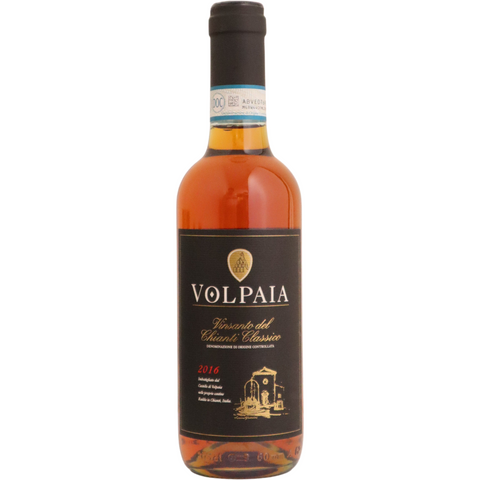 2016 Castello di Volpaia Vinsanto del Chianti Classico, Tuscany, Italy 375ml
Scintillating amber. It is a full, balanced wine with intense, of cane sugar, apricot jam and sultan grapes. Warm and luscious with almond finish.
There are 3 units left in stock.
ABOUT THIS WINE
Vin Santo is still produced using the same labor-intensive process that was used hundreds of years ago. Towards the end of the growing season, before Volpaia harvested its white grapes, the winery picked the best bunches of Trebbiano and Malvasia to go into the Vinsanto. The grapes were taken to the winery's Vinsantaia (left), a special attic where the bunches were hung from chains tied to the rafters and dried. The grapes are never touched during the maturation process. The windows were kept open in the Vinsantaia for the next few months, ensuring that the air in the large room was constantly being circulated. On February 10, once the grapes' sugar levels were high enough, they were pressed and the juice put through a natural process of clarification. The highly concentrated must was then fermented in small caratelli oak barrels already containing madre ("mother") – a remnant of the thick residue left over from Vinsanto that had already been bottled – for five years
ABOUT THIS PRODUCER

The Florentine family, "della Volpaia" (from Volpaia), consisted of artists and builders that designed armillary spheres and solar clocks. The most famous amongst them was Lorenzo, friend of Leonardo da Vinci, who built the extraordinary planetary clock for Florence's Palazzo Vecchio.
Today, Castello di Volpaia is owned by the Mascheroni Stianti family, which ensures that every restoration respects its original artistic characteristics. Respecting eleventh century tradition, the castle and surrounding village remains heavily involved in the production of Volpaia's wine and olive oil.
That of the Volpaia area is a unique terroir in the Chianti Classico area.
The vineyards about 45 hectares are over 400 m. above sea level. on predominantly sandstone soils rich in skeleton suitable for the production of elegant and long-lasting reds, harmonious and aristocratic wines that manage to maintain the fruity aromas of the best Sangiovese for a long time.
Typical wines of the so-called "Alto Chianti" and easily recognizable for the composite elegance of their bouquet referable, in addition to the microclimate of the area, also to the very particular clonal selection carried out by the farm that led to the rediscovery and re-engagement of ancient indigenous Sangiovese strains. This long process led to the creation of 3 Crus: Coltassala, Il Puro and Balifico, each with its own distinctive features.