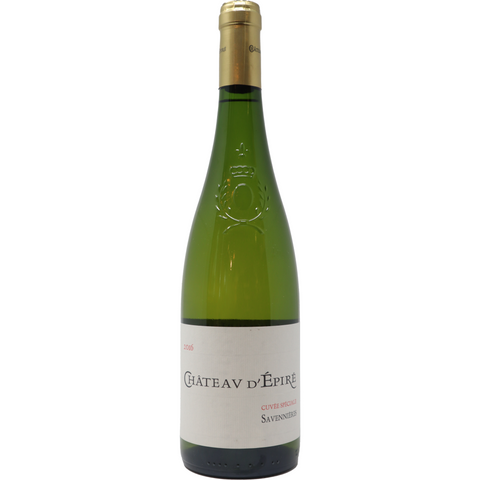 2016 Chateau D'Epiré Savennieres "Cuvée Speciale", Loire Valley, France
Generously expressing acacia and jasmine in a notably friendlier way than the notoriously austere Savennières of cooler years. On the palate a firm core of minerality and acidity keep this bone-dry white sharp as a razor, despite a lovely fleshiness.
ABOUT THIS WINE
Chenin Blanc vines are grown here in sandstone Shale and Phtanite. The harvest comes from the Hu-Boyau plot, handpicked, and the team went through the vineyard 3 time to picking. After fermentation the wine is aged in 18 years old oak barrels for 9 months.
ABOUT THIS PRODUCER

One of the oldest and most celebrated domaines in Savennières, Chateau d'Epiré is rich in history. The domaine itself has been in the Bizard family continuously since the 17th century. The Savennières from Epiré is regarded as Grand Cru. The domaine works primarily three parcels: La Croix Picot, Le Parc, and Le Hu-Boyau. It is the latter that sits just above another famous vineyard, La Coulée de Serrant. The soils here are rich, and the microclimate is ideal. Southern and south-eastern sun exposure brings ripeness to the grapes, while the proximity to the Loire River keeps the temperatures moderate. The subsoils are comprised of sandstone and schist, and the top soil is a beautiful blue slatey schist that covers the vineyard floors, lending nerve and firmness.