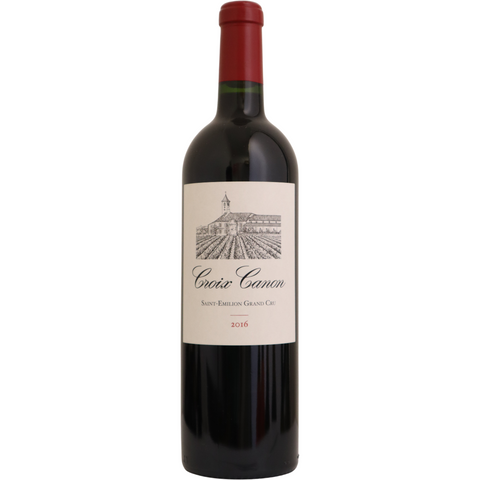 2016 Château Canon "Croix-Canon" Saint-Emilion, Bordeaux, France
The nose is fresh, delicate and fruity. The palate is silky with an intense aromatic expression and firm tannin structure. A long and graceful finish displays the balance and poise which define Croix Canon.
There are 7 units left in stock.
ABOUT THIS WINE
Croix Canon is crafted with precision and care. In the cellar, the gravity-flow fermenting room allows for gentle yet thorough extraction. Made primarily from Merlot grapes with some Cabernet Franc, the wine is aged for 18 months in French oak barrels, 10% of which is new.
Croix Canon is crafted with the same precision as the Grand Vin. In the vineyard and cellar, winegrowers and workers apply the most meticulous methods, precise plot-byplot- management, and grape selection further refined by manual sorting. The gravity-flow fermenting room makes it possible to manipulate the grapes very gently. Made from a blend, which combines a majority of Merlot with a smaller quantity of Cabernet Franc, the wine is then aged for 18 months in French oak barrels, including a small proportion of new barrels to preserve aromatic balance and freshness of the fruit.
ABOUT THIS PRODUCER
Château Canon, located on top of the limestone plateau in view of the village of Saint-Émilion, was originally part of the Clos St-Martin vineyard. It was purchased in 1760 by Jacques Kanon, frigate lieutenant and corsair working for King Louis XV. Officially renamed Château Canon in 1853, the estate was purchased by the Wertheimer family in 1996, owners of the famed Chanel fashion house. In 2011, Canon purchased Château Matras to add to the production of its second wine, Clos Canon. In the summer of 2013, the Canon team unveiled the meticulously restored "Chapelle de Mazerat." On the Saint-Émilion hillside sloping gently down to the Dordogne River, a magnificent stone cross marks the entrance to this chapel, which gave rise to a new label in 2011: "Croix Canon, Saint-Émilion Grand Cru." The 12th century church now houses the entire winemaking and production side of the second wine. Today, Château Canon is recognized as a Première Grand Cru Classé "B" of Saint Émilion and one of the great estates of Bordeaux.