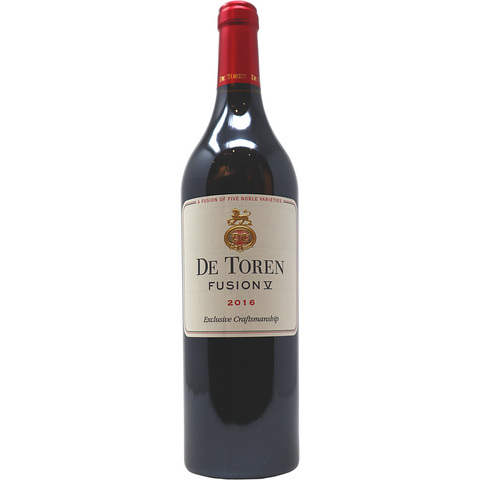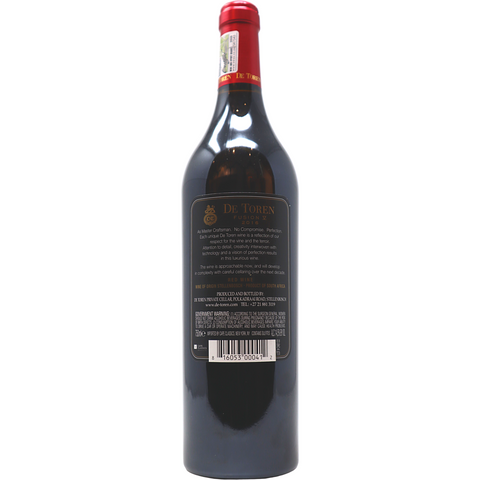 2017 De Toren "Fusion 5" Stellenbosch, South Africa
Meticulously crafted from Bordeaux's "Noble Five". With complex flavors of licorice, cedar and dark berries, it offers a stylish departure for sophisticated oenophilic tastes. Soft as spun silk, with a lingering hint of sweet fruit on the back palate.
Situated on southern facing slopes overlooking False Bay at altitudes of 560 to 655 feet, De Toren enjoys the cooling effect of constant ocean breezes. Approximately 22 of the farm's 26 hectares are planted to the Bordeaux varietals of Cabernet Sauvignon, Merlot, Cabernet Franc, Malbec and Petit Verdot.
All harvesting is done by hand in the cool early morning hours, and the grapes are transported to the winery in small batches, where they are hand sorted and gently basket pressed. The winery is operated completely on gravity flow principles. This sophisticated "Right Bank-styled" Bordeaux blend debuted in the 2004 vintage as a complement to De Toren's legendary "Left Bank-styled" Fusion V. A higher proportion of Merlot makes this enchanting red softer and more approachable in its youth than its blockbuster counterpart. It delivers complex, appealing aromas and flavors of dark berries, cassis and black currant with hints of spice and herbs. The well integrated flavors are balanced by a delicate acidity and smooth tannins that linger in the lengthy finish.