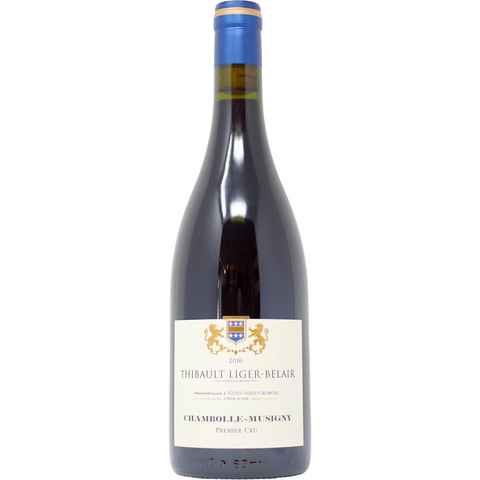 2016 Domaine Liger-Belair Chambolle-Musigny 1er Cru
An airy nose blends notes of red cherry, dark raspberry, spice and a hint of violet. There is fine intensity to the energetic middle weight flavors that display fine length. This is mildly rustic but overall it's a quality Chambolle villages.
This domaine, located in Nuits-Saint-Georges, has been in the Liger-Belair family for 250 years. In 2001, Thibault Liger-Belair took over the vines as the winemaker and created Domaine Thibault Liger-Belair. Prior to joining the family domaine, Thibault studied viticulture and oenology for six years, and worked for a communications firm in Paris where he was able to present and taste wines internationally. In his mid-twenties, Thibault also started an internet company with the idea of discovering and selling high quality wines. But the calling of the vines was still strong, so in 2001, at the age of 26, Thibault decided to jump to the other side of the fence, this time to make wine, his true calling and passion. The year 2002 was the first harvest of the Nuits-Saint-Georges, Nuits-Saint-Georges Charmottes, as well as Vosne-Romanée Aux Reas. In 2003, the domaine enriched its range with Richebourg Grand Cru, Clos Vougeot Grand Cru, Vosne-Romanée Premier Cru Petits Monts, and Bourgogne Rouge. In 2009, the domaine expanded into Beaujolais, and now a Beaujolais-Villages and several Moulin-à-Vent Cru wines are also produced.