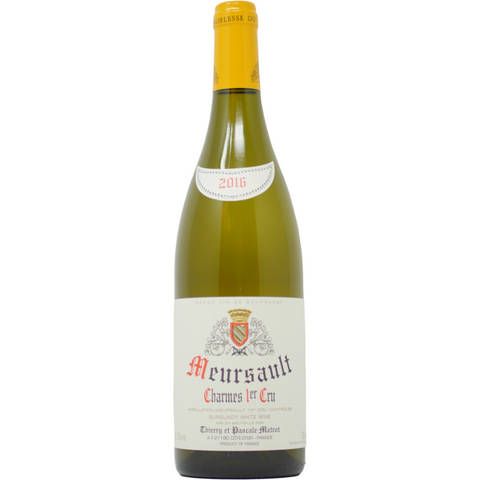 2016 Domaine Matrot Thierry & Pascale Meursault-Charmes 1er Cru
A nose of matchstick, petrol, essence of pear and acacia scents. The generously proportioned, medium weight flavors brim with dry extract while the solidly persistent finish also flashes a hint of natural sweetness.
Elsa and Adèle took the reins of the estate in 2016 from father Thierry, having joined the domaine in 2008 and 2010 respectively. They observe the mantra that a wine should reflect its terroir and its vintage, and attentive work in the vineyards is the first step in preserving their precise characteristics. The family moved to organic fertilisers upon his arrival on the scene in 1976, when Thierry and his father adopted a lutte raisonnée approach to the vines. The rational progression from here was full organic viticulture across all the vineyards of Domaine Matrot from the year 2000. The family uses organic manure and ploughs the land, employing rigorous pruning and then disbudding in spring to control yields. If necessary, a green harvest takes place before véraison. Health and ripeness are assiduously observed in order to pick at the perfect time. The Matrots exercise extreme care with barrel hygiene and temperature control during vinification, enjoying long and uneventful ferments for eight to ten weeks. They also check the quality of the lees during the maturation process and adjust bâtonnage to the need of each parcel and vintage. These are wines that smack deliciously of this corner of the Côte de Beaune, and of a family very much at home there.