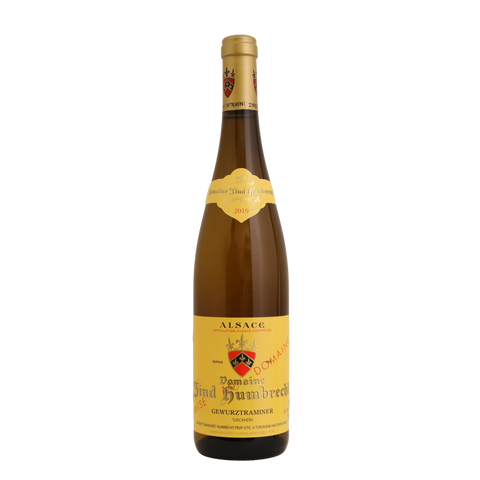 2019 Domaine Zind Humbrecht Gewurtzraminer, Alsace, France
Expect mesmerizing notes of rose petals, damp earth, and exotic citrus fruits followed by a full and expansive presence on the palate, with substantial weight and a graciously elegant finish.
ABOUT THIS WINE
This wine is traditionally produced from the younger vines on the alluvial gravelly soils of the Herrenweg in Turckheim - younger vines being an average of 52 years old because the older vines are actually much older! These vineyards ripen early and quickly, especially in vintages that do not suffer from summer droughts, as in 2021. Being able to obtain a good early ripeness allows one to pick earlier in hopes of achieving a slightly drier style compared to the past. These vineyards produced beautiful grapes, but a lot were lost through frost and mildew in early spring. The wine fermented quickly and finished in a dry style. The high acidity of the wine allows it to still present as dry wine under the local legislation, and it does taste dry.
ABOUT THIS PRODUCER
Winegrowing is a passion that has been passed down from father to son in the Humbrecht family since the 17th century. Domaine Zind Humbrecht today comprises of 42 hectares of vines, spread out over an array of different terroirs in the geological patchwork which is the Alsatian wine region and the birthplace of some noble grape varieties.

Zind-Humbrecht is managed by Olivier Humbrecht, one of the world's only winemakers to attain MW status. His passion for Alsatian wines and biodynamic farming translates into a portfolio of legendary wines recognizable for their purity, intensity, and, above all, their faithful expression of each individual vineyard site. The Gewurztraminer grape was always important in the village of Turckheim, and the gravelly soils of Turckheim show generosity and pleasure in the wines.