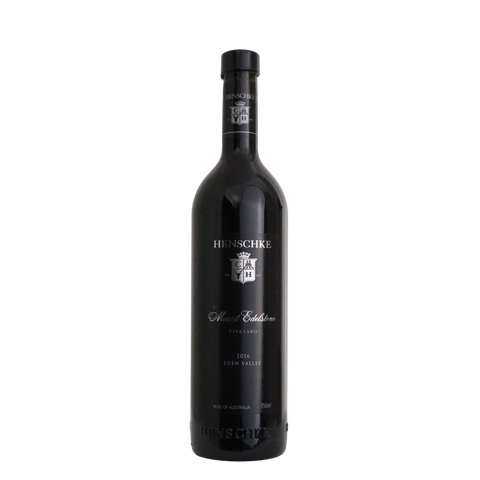 2016 Henschke Mount Edelstone Vineyard, Eden Valley, South Australia
Medium garnet with crimson hues. Intense and evocative aromas of briary black currant, blackberry, blueberry, Satsuma plum, with lifted notes of sage, bay leaf, crushed flowering herbs, black pepper, anise and hints of cedar. The palate is rich and complex with well-defined blackberry, mulberry, red plum and black currant fruit, layered with sage, black pepper and bay leaf, and carried by fine-grained, mature, velvety tannins for an almost endless finish.


There are 5 units left in stock.
ABOUT THIS WINE
Exceptional vintage; 30+ years age potential from vintage.
The beautiful and historic name Mount Edelstone is a translation from the German Edelstein meaning 'gemstone', a reference to small yellow opals once found in the area. The Mount Edelstone Vineyard was planted in 1912 by Ronald Angas, a descendant of George Fife Angas who founded The South Australian Company and played a significant part in the formation and establishment of South Australia. Unusual for its time, the vineyard was planted solely to shiraz. The ancient 500-million-year-old geology in the vineyard has given rise to soils that are deep red-brown clay-loam to clay, resulting in low yields from the dry-grown, ungrafted centenarian vines. First bottled as a single-vineyard wine in 1952 by fourth-generation Cyril Henschke. By the time Cyril purchased the vineyard from Colin Angas in 1974, Mount Edelstone was already well entrenched as one of Australia's greatest shiraz wines. Crafted by the Henschke family for 65 years now, Mount Edelstone is arguably the longest consecutively-produced, single-vineyard wine in Australia.
ABOUT THIS PRODUCER
The Henschke family have been making wine at their estate in the Eden Valley since 1868. Fifth-generation winemaker Stephen Henschke took over running the winery in 1979. Together with his viticulturist wife Prue, they have taken their two single vineyards, Hill of Grace and Mount Edelstone, and transformed them into two of Australia's most sought-after wines. With a history dating back to 1839, Mount Edelstone Vineyard is a testament to the work of Cyril Henschke – in pioneering wines based on single varieties that express the beauty and character of a single vineyard.