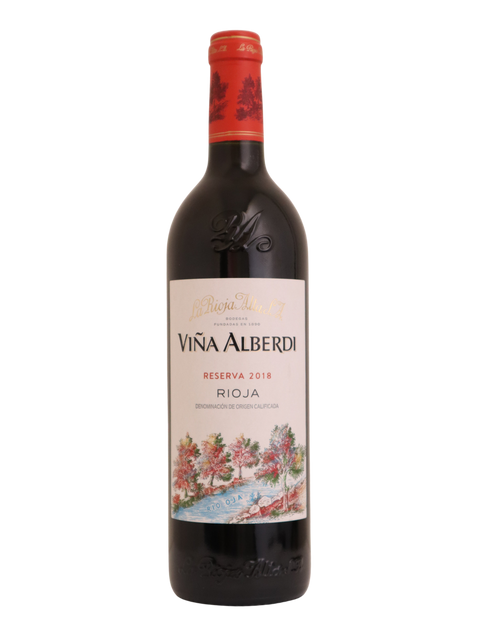 2018 La Rioja Alta "Viña Alberdi" Reserva, Rioja, Spain
Alberdi is 100% Tempranillo that is savory, red fruit forward (raspberries, wild strawberries and red plums), clean and bright. Only American oak is used, adding notes of vanilla, nutmeg, caramel and cedar. An ideal companion to appetizers and barbecues.
ABOUT THIS WINE

100% Tempranillo from our Mayorita, Rebollar, and Bardal vineyards, as well as selected plots in El Palo, Rodezno and Alto del Rey, and Labastida. These vineyards are located at an altitude of 500-600 metres (1600-2000 ft) above sea level, planted in chalky-clay soils more than 40 years ago. After carefully selecting the grapes to be harvested, we placed the clusters in boxes that we immediately transported to the winery in refrigerated vehicles at a temperature of 14°C (57°F). The Bordeaux model was applied, destemming, crushing and vatting the grapes in tanks, where they underwent alcoholic and malolactic fermentation. The wine was aged for two years in American oak barrels manufactured in-house; the first year in new oak and the second in barrels averaging three years in age. The wine was manually racked four times by the light of a candle. Bottled in June 2017.

ABOUT THIS PRODUCER

One of the great old estates of Rioja, La Rioja Alta began in 1890 when five Riojan and Basque families merged their vineyard holdings and established a winery in Haro (relocated in 1996 to be closer to the vineyards in Labastista).
One hundred twenty-five years later, La Rioja Alta continues to produce some of the most classic wines in the region, embracing its long history, commitment to tradition, and strictly estate-grown production. With more than 400 hectares under vine, the estate focuses on its old vines, manages the vineyards without the use of artificial fertilizers, produces barrels from its own cooperage, and assiduously maintains the integrity of its wines, only producing Reserva and Gran Reserva wines in worthy vintages.