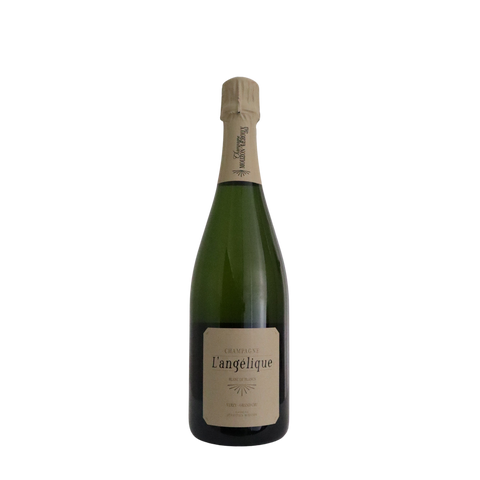 2016 Mouzon-Leroux "L'Angélique" Blanc de Blancs Grand Cru, Extra Brut, Champagne, France
100% Grand Cru chardonnay from Verzy in Montagne de Reims - "Angélique (Angelic): Angelic: something that is pure, light, and ethereal."
There are 1 units left in stock.
ABOUT THIS WINE
100% Chardonnay from Verzy Grand Cru - soil is clay, chalk and flint. Aged in used French oak and sees 56 months on lees. (just an easy 5 years pretty much.. no big deal... DELICIOUS!) 
ABOUT THIS PRODUCER
Sébastien Mouzon is producing certified organic wines and practicing biodynamic viticulture. There is no filtration on any of the wines and no collage; the addition of riddling aids to keep the lees from sticking in the bottle. Alcoholic fermentation is natural, using pied de cuve and the secondary fermentation is done with "Quartz", the selected yeast from Fleury, the biodynamic producer in the Aube. The wines aren't filtered, and the amount of sulfur used at the estate is very low. Sébastien feels, as many growers do, that a period of aging after disgorgement is necessary. None of the wines are released before they have rested on the cork after disgorgement for at least 6 months.

Sébastien now belongs to the Club Trésors and later this year his first Spécial Club, 2012, will be released. He is one of the so-called "third wave" of grower-producers—marking those producers of a new generation, who are pushing the boundaries of what's been done in this region, similar to Cédric Moussé, Benoit Dehu, and Aurelien Suenen. Sébastien's interpretation of Verzy is refined but also unadorned and without pretense. They are delicious wines, thoughtful, restrained, mineral, and incisive; if you're looking for creaminess you won't find it here.
Verzy, being one of the most famous Grand Crus of Montagne de Reims, is northeast facing. It isn't as powerful as it's neighbor Verzenay, Bouzy or Ambonnay. It's much more delicate. Minerality shows before the fruit in Verzy with more finesse, tension, and higher register.