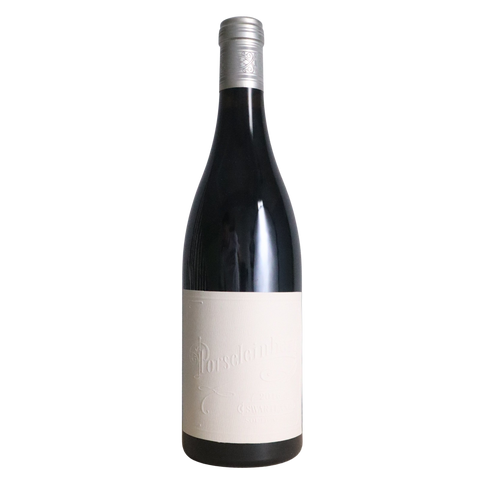 2016 Porseleinberg Syrah, Swartland, South Africa
This has a gutsy edge, with a mix of steeped fig, boysenberry and blackberry fruit still wrestling with ganache and roasted apple wood notes. A strong, charcoal-coated spine courses through the finish, with waves of tobacco and singed iron echoing.
ABOUT THIS WINE
Ripe and inviting, with warm plum sauce and raspberry pâte de fruit notes wrapped in red licorice and roasted vanilla details. A sanguine streak contrasts with the fruit and enlivens the finish.
ABOUT THIS PRODUCER
The revolutionary Porseleinberg project is the result of South African icon Marc Kent's search for premium Rhône grapes for his Boekenhoutskloof and Chocolate Block labels. The journey naturally took him to the Swartland, which at the time was emerging as a premium South African wine region. Kent found a remote, rugged, and windswept 173-acre wine farm atop the Porseleinberg mountain and purchased the property in 2009. Recognizing the enormous potential of the area, and after replanting the vineyards, he decided to create a premium Swartland Syrah from the choice fruit. Under winemaker and viticulturist Callie Louw's careful eye only the most premium Syrah from the organically farmed vineyard is used in Porseleinberg's single iconic wine.
Marc Kent, who also owns Boekenhousklof, and Callie Louw have been working to make the best Syrah from South Africa for many years. Bearded, baseball cap-wearing renegade Callie Louw, described by South African wine writer Neil Pendock as, "the Che Guevara of the Swartland", is causing a stir in the region with his elegant Syrah from boutique winery Porseleinberg; the Swartland project of established Franschhoek estate Boekenhoutskloof. Louw works with up-and-coming viticulturist Rosa Kruger at the organically run, 2.5-hectare estate boasting shale heavy soils where the roots penetrate deep.
He picks early and practices whole bunch pressing, relying on the grapes' natural yeast for fermentation. Replanting widely at the estate, Louw declares much modern winemaking to be, "just a cover-up for bad farming." Seeking freshness, elegance and wines that can age, he feels he has solved the issue of over-ripeness in South Africa. His debut 2010 vintage produced just 3,500 bottles of Rhône-like Syrah full of rosemary, lavender, spice, and red and black fruit. Porseleinberg's beautiful raised white labels are made on a 1940s printing press. "I love the rusticity of Mediterranean grapes. The Swartland Revolution is too honest to be trendy. I'm just a farmer hoping to redefine my origins," he says. His 2011 release, crafted from 100% Syrah, has been entirely fermented in concrete eggs.