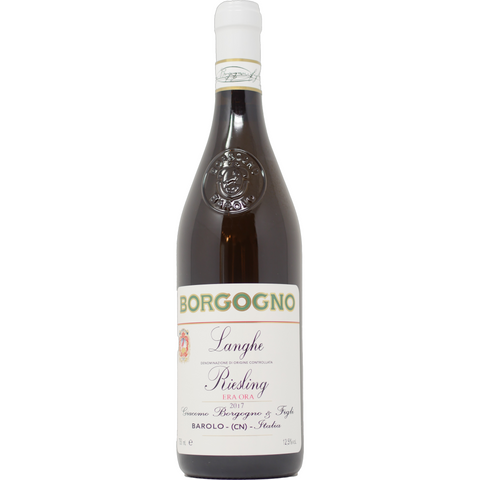 2017 Borgogno Ora Era Riesling Piedmonte
A unique wine, the Ora Era Riesling hails from Borgogno, a winery that is traditionally known for its Barolo rather than its white wines. Aromatic nose with hints of yellow fruits and white flowers. Mineral, fresh and fruity.

Giacomo Borgogno & Figli is considered a dynasty of Barolo. This historic house prides itself as being a harbinger of the traditional style. The estate was founded in 1761, although today the family cites 1848 as the date of official establishment, coinciding with a document dated 1848 that attests to Borgogno's first wine sale. The vineyards, approximately 50 acres (20.25 ha) thereof, are found in the greatest sites within the Barolo commune including Liste, San Pietro delle Viole and Rue.
Especially notable is Borgogno's library collection of older-vintage Barolo, one they've diligently safeguarded since before WWII. The family continues the practice of cellaring considerable amounts of wine from the very best vintages even today. They periodically re-release, providing the rare opportunity to enjoy perfectly cellared, historic-vintage Barolo. This is truly the best way to understand how traditional Barolo was meant to be experienced.